Don't you love your silicone molds? Silicone baking molds come in many shapes and sizes, which makes the whole process of baking a lot more entertaining and fun. If you own silicone molds, and the chances are that you do, you need to make sure you learn how to clean silicone molds the right way.
Using silicone molds in your household is excellent because they are easy to use, wash and stack. However, you probably want them to last a long time, so cleaning them regularly and storing them properly is very important. The best part about silicone molds is that they are made of a nonstick silicone material and can be washed and reused as many times as you want.
Though you may not have a clear idea of how to clean silicone molds, do not worry, we are here to show you what you need to do step by step. All you have to do is make sure you have all the right tools and follow the instructions below. So to help you in the right direction, keep reading and learn everything you need to know about how to clean silicone molds the right way.
How to Clean Silicone Molds FAQ's
How do you take care of silicone molds?
Store your silicone molds in a single, flat layer. Storing them in a pile may cause them to bend and warp. Once a silicone mold is warped, it cannot be undone.
Use a mold release; mold releases make it easier to get castings out and prolong the life of your mold.
Store your silicone molds cool, dry area, out of direct sunlight. Excessive heat can cause the molds to warp or break down.
If you're not using your silicone mold for a while, consider storing a casting in the mold to help ensure it will retain its shape.
Do not pierce holes in your mold. This may cause the mold to lose its shape.
When finished with your silicone mold, wash it with warm water and mild soap before storing it.
Be careful when applying heat to your silicone mold. You don't want to warp or burn the mold.
What is the easiest way to clean silicone?
Use a grease-cutting dish detergent and boiling water. Put heat-safe silicone in a 350 F oven for a few minutes and then submerge in a sink filled with hot water. Make a thick paste with baking soda, apply to areas with stuck-on grime, let dry, then wash with dish detergent and hot water.
How long will a silicone mold last?
Platinum catalyst silicone molds (like our Food Grade silicone or silicone putty) last more than 20 years when stored properly. Latex molds last 10-20 years when stored properly. Urethane rubber molds last over 20 years when stored properly.
Do you need to grease silicone molds?
Generally, good old greasing is not necessary with silicone molds. However, using cooking sprays or even greasing before baking and cooking can make your life a lot easier when washing them later on.
How to remove discoloration from silicone molds?
Hydrogen peroxide is a slow-acting bleaching agent, place the discolored item in a bowl or sink and pour on enough hydrogen peroxide to cover the stained area. Let it soak for 24 hours. Rinse well before using it.
Chlorine bleach is stronger and must be diluted. Add two tablespoons of bleach for every two cups of water. Submerge the stained item and soak for 24 hours. Rinse well before using it.
How to Clean Silicone Molds
Dishwashing detergent
Fill a sink or large bucket with boiling water.
Add one teaspoon of a dishwashing detergent that includes a degreaser or a grease-cutting agent.
Swish the detergent through the water with a spoon or your hands to make sure it is dispersed well.
Submerge the silicone in the hot, soapy water and allow it to soak for at least 30 minutes.
Remove the silicone from the saturated solution. If the water is cold, drain it away and add more hot water.
Put a few drops of the dishwashing liquid on a nonabrasive sponge and scrub the silicone well.
Rinse the silicone piece well in hot water and dry with a microfiber cloth.
Get your ultimate clean and be the kitchen hero with the Grease Cleaning power of Dawn dish soap paired with the Dawn Non-Scratch Scrubber Sponge.
Dawn Ultra Platinum has 4X MORE Grease Cleaning Power per drop so that you can get through more dishes with less.
The Dawn Non-Scratch Scrubber Sponge has a scrubber side that quickly takes off grease and baked-on messes, while the absorbent cellulose side is gentle yet mighty to get dishes sparkling clean.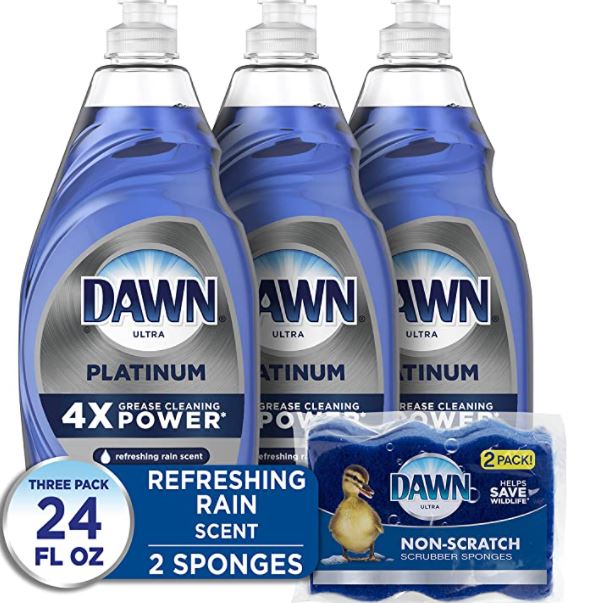 Features:
Rain scent
Liquid
Non-Scratch
Oven + Baking Soda
Heat the oven to 350 degrees F (177 degrees C). When the proper temperature has been reached, place the silicone pieces in the oven for 10 minutes. This will help the residue soften for easier removal.
Carefully remove the pieces from the oven. Rinse them with water to dampen and sprinkle them liberally with dry baking soda.
Use the water clinging to the silicone to make a paste with the baking soda, and make sure to cover all surfaces with the paste.
Allow the baking soda to dry completely.
Once the baking soda is dry, rinse away the paste in hot water.
If no stickiness remains on the surface, dry the piece with a microfiber cloth or allows it to air-dry in a dish drainer.
Baking soda is the most versatile product in your home, and ARM & HAMMER is the most recognized brand. With its natural pure and gentle cleaning power, there isn't a place in your home where dirt and odors are safe.
Now, discover more than 100 ways to save time and money with Baking Soda, from cleaning your carpets to getting rid of pet odors, making laundry sparkle, creating an inexpensive craft for kids, and even enjoying a spa-worthy pedicure.
Whether you need a quick solution for mopping dirty kitchen floors, a nonabrasive way to scrub bathroom countertops, or a chemical-free way to clean toys, furniture, pots, and pans, baking soda is at your service.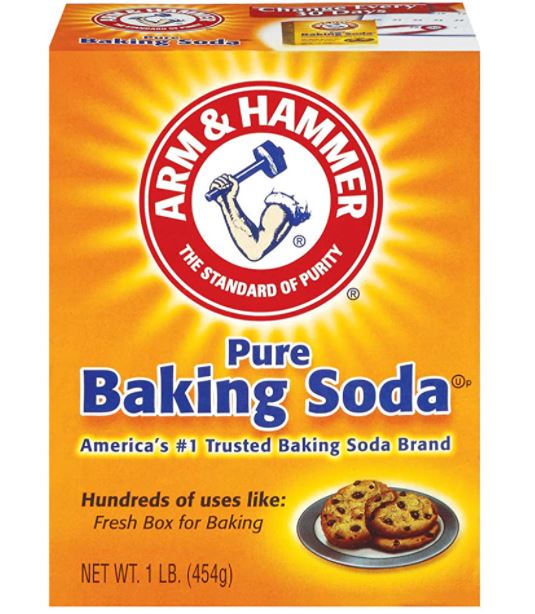 Features:
Kosher
Versatile
Multi-purpose
Additional Tips on How to Clean Silicone Molds
The better you take care of your Silicone Molds, the longer they will last; however, over time, they will dull, which means they lose the sharp edges on the small details of the mold.
It is important to note that your molds will wear out, and it is entirely normal; with proper care, it can be slowed significantly, but not stopped.
Do not use solvents to clean your mold, and do not place it in the dishwasher. Make sure your molds are completely dry before storing them.
While silicone can handle hot temperatures created during curing, they are not designed to withstand the heat created by fire.
Another option that can reduce the washing-up time is putting paper baking cups in the mold instead of greasing it and just using the mold as a structural form. Cleaning time will be minimal this way.
It is not recommended to put silicone molds in the dishwasher. Avoid using copper sponges on silicone molds, as they can scratch the smooth, glossy inside.
Read: How to Clean Shower Head Without Vinegar
Related Products