If you use celery in the kitchen, then learning how to dice celery is an essential ability that will save you precious time. Celery is great in numerous dishes; it makes a fantastic addition to soups, stews, and stuffing. As you can see, mastering dice celery will definitely make life a lot simpler and your cooking all the more efficient.
Often, we end up with remaining celery stalks that go unnoticed in the fridge; learning how to dice celery will also come in handy to avoid waste. To encourage your celery intake, keep in mind that celery is a great source of important antioxidants. Celery also reduces inflammation, supports digestion, and is rich in vitamins and minerals with a low glycemic index.
Safe to say, celery offers a whole lot of goodness; however, dicing them can be a bit intimidating. That said, dicing celery doesn't need to be a scary thing once you learn the right technique. So if you are thinking about dicing celery for your next recipe, find out ways to dice the celery.
How to dice celery FAQ's
How to shop celery?
Choose fresh, crisp celery; look for whole heads still attached at the root with tightly bundled stalks and a bright green to yellowish-green color. Skip any heads that have bruised brown spots or that look overly fibrous. Avoid those kept in sealed packs, which can often hide blemishes.
How to store celery?
Celery can wilt in a matter of days. It's best to keep it in a slightly opened plastic bag or a perforated plastic bag to help retain moisture but still give it room to breathe. The reason why your vegetable crisper drawer is where you should keep your celery. Properly stored, celery should last up to a week and a half in the fridge.
Can you dice celery in a food processor?
Food processors cannot dice vegetables, but they can finely chop them. Chopping typically leaves you with larger or more uneven pieces than dicing does. For most recipes, using chopped vegetables works just as well as using diced vegetables.
If you want to use your food processor to cut your celery, then you'll get at the end shredded celery.
To shred celery, you do not need first to cut it in half. Equip the food processor with the chute. Make sure the lid is secure. Applying even pressure, gently press the vegetable through the chute, allowing time for the shredding blade to work efficiently.
You can also mince your celery using the food processor. To do it, chop by hand into small chunks before adding to the food processor bowl for mincing. Secure the lid, and pulse to mince.
What is the easiest way to chop celery?
The basic way to chop celery is .to slice the celery into half-moon shapes.
Chop off the leafy ends of the celery stalk, but leave the base of the stalk intact
If your celery stalks don't have leaves, trim off about 1/2 inch of the top of the stalk.
Starting at the top of the stalk, make slices perpendicular to the stalk to get slices as thick or as thin as you want
If you're looking for a larger piece of celery, cut the stalks on the bias (diagonally). Hold your knife diagonally across the celery stalk, and slice.
If you want smaller celery pieces, start by splitting the celery stalk lengthwise.
Makeup to 3 cuts down the length of the celery stalk, depending on how fine you want the celery diced.
Do not cut all the way through the base of the celery; this will help hold all the pieces together, so it is easier to chop.
Once you have the stalk split into as many sections as you want, hold all the sections together and cut perpendicular to the stalk. And voila, you'll have finely chopped celery.
How do you cut a celery cube?
In cooking terms, a cube means to cut food into pieces that are even, like a square. The size is usually about the same as the sizes of the chopped pieces; about 1/3 to 1/2″
You usually do a brunoise cut; the food must first be julienned, then turned a quarter and diced again to create approximately 1/8-inch cubes. This cutting technique is ideal for carrots, onions, leeks, and celery.
How do you make medium celery dice?
Generally smaller than a standard cube and creates uniform squares for even cooking and a polished look. Dicing is often used to make a classic salsa or mirepoix (a mix of carrots, onions, and celery).
For medium diced celery, split the stalk once in half. For finer dice, split into quarters.
Rotate the celery stalk and cut crosswise to form fine dice.
The split section of the stalk should hold together as you cut.
Is there a special knife to diced celery?
You'll need a good cutting board and a sharp knife. A quality chef's knife is what you want for the best results.
What to look for in a knife?
One with a blade, bolster, and tang forged from a single piece of high-carbon stainless steel; has optimal stability. You should see the tang (or metal) sandwiched between the handle material along the spine.
Also, the knife should be neither blade- nor handle-heavy: If you place your finger under the curve of the bolster, the knife should balance perfectly.
What is the best knife to dice celery?
Here is an excellent recommendation:
Best Seller
The Fibrox Carving Knife from Victorinox's professional line of knives is prized by home cooks and professional chefs alike for its comfortable, non-slip, ergonomic handle and the optimal weight and balance its extra-wide blade delivers.
This knife promises both ease and efficiency when slicing cooked and grilled meat or larger foods with a razor-sharp edge that rarely requires sharpening.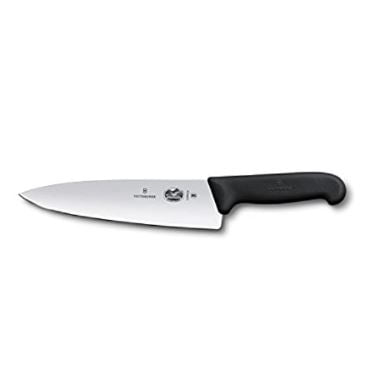 Features:
Swiss made carving knife with a straight edge
With a non-slip, ergonomic handle
Ultrasharp, extra-wide blade
How to dice celery
Method 1:
Thoroughly wash it before beginning to dice your celery
Trim off both ends of the celery stalks
With the trough of the celery stalk facing upward, use the tip of a knife to cut it lengthwise into 2 or 3 thin strips.
Gather the strips into a bundle
Turn the bundle, so it's horizontal on the cutting board
Holding the bundle with your hand, cut the bundle crosswise across into small cubes. The closer you make the cuts, the smaller the cubes will be
Method 2
Rinse the stalk. Run cool water over the stalk and rub stubborn pieces until they fall off
Take a sharp knife and begin by splitting the stalk down the middle. Start at one end and cut from one end to the other.
Cut the now divided stalk in half.
Slide the bunch of strips around themselves and line up the ends
Cut in half again
Slide the bunch around; you now have a lot of pieces stacked together
Holding the stack and keeping your fingers out of the way, slice across the stack of split stalks
Continue across the bundle of stalks until you reach the other end
Method 3
First, chop the stalks in half so they are easier to work with
If you're looking for smaller dice, now chop the celery stalks in half or thirds the long way. Because celery is not perfectly round, it's pretty easy to find a flat/stable side; so place that most stable side face down on the cutting board
Grip the knife in your dominant hand, and keeping the tip on the cutting board at all times, rock the knife down to make your first dice
Your other hand should be in a "claw" grip with the fingertips curled under the palm and out of the way. Use this hand to guide the knifes movement down the celery stalk with each cut, making the dice with every cut
Method 4
Separate the celery stalks from one another
Wash and trim the stalks
Trim the stalks using a knife
Peel the stalks if desired
Split each stalk into 2-4 sections lengthwise so that you form long, skinny pieces
Keep one end of the stalk attached to the base/root/end to chop faster.
Begin cutting up the celery crosswise, finely dicing the stalks to your desired size
Would be interested in reading about How to Harvest Celery?
Additional tips on How to Dice Celery
Always wash your celery before dicing; this will help remove any dirt on the celery.
Celery can be used in the food processor with or without the slicing blades. You must be careful not to process it for too long, though; you don't want to end up with celery puree!
You may have to cut the individual pieces one by one, be careful and not cut yourself.
Celery leaves add great flavor to soups, broths, or stocks and can be a good addition to a green salad.
Cutting on the bias gives you a larger piece of celery than simple slices, but still thin enough to use in salads or stir fry recipes.
If you want to peel the stalks before dicing, use a vegetable peeler to peel off the outer layer of each stalk.
Splitting the stalk down the middle before dicing will create fine dice, while splitting the stalk into 4 pieces will form excellent dice.
Features To Look on How to Dice Celery
When dicing celery, there are a few key features to look for. The first is that the celery should be firm and fresh. Second, make sure to cut off the root and the leaves before dicing. Finally, make sure to dice the celery into even pieces so that it cooks evenly.
With these guidelines in mind, let's get started on how to dice celery! First, cut the celery into thirds. Second, cut off the root and leaves. Third, slice the celery thinly. Fourth, dice the celery into small pieces. Fifth, enjoy your delicious diced celery!
How to Choose the Best Way How to Dice Celery
When dicing celery, there are a few ways to go about it. The first is to cut off the bottom of the celery stalk and then cut it in half length-wise. Next, make thin slices perpendicular to the first cuts. Finally, cut the slices into small pieces.
An alternate way to dice celery is to first cut off the bottom of the stalk. Cut the celery into thirds length-wise and then make thin slices perpendicular to the first cuts. Finally, cut the slices into small pieces.
The best way to dice celery depends on what you'll be using it for. If you're adding it to a soup or stew,
Common Questions About How to Dice Celery
What is the easiest way to dice celery?
The easiest way to dice celery is to cut it into thin strips first, and then cut the strips into small cubes.
Can you dice celery in a food processor?
Hamilton Beach Food Processor & Vegetable Chopper
Best Affordable
Yes, you can dice celery in a food processor. First, cut the celery into thin strips. Then, place the strips into the food processor and pulse until they are finely chopped.
The Hamilton BeachFood Processor fautures:
Bowl scraper attachment: Special attachment scrapes the sides of the bowl to keep ingredients close to the blades for more even results and to save you time when chopping or pureeing — no need to stop and remove the lid to use a spatula
10 cup capacity: The generous 10 cup bowl can handle large volumes of foods without having to stop to empty it
Large feed chute: Can fit large foods like a whole block of cheese for quick, easy processing and less prep time
Versatility of a food processor, food chopper and vegetable chopper: Reversible stainless steel disc slices and shreds, while the stainless steel s-blade chops, mixes and purees
2 speeds plus pulse and 450 watts of power: Food processor's low and high speeds plus pulse gives you the control you need for a variety of recipes
Included Components: S-Blade for Chopping
What is the best way to store diced celery?
The best way to store diced celery is to place it in a container with a lid and store it in the fridge. The celery will last for up to a week this way.
Do you have to peel celery before dicing it?
No, you do not have to peel celery before dicing it. However, if the celery is very dirty, you may want to give it a quick rinse before cutting it.
How do you dice celery without a knife?
Fullstar All-in-1 Vegetable Chopper, Mandoline Slicer
Best Seller
If you do not have a knife, you can use a mandoline slicer to cut the celery into thin strips. Once the celery is in strips, you can then use a food processor to pulse it into small cubes.
According to their website this mandoline slicer features:
Greatest functionality on the market – 5 interchangeable blades means this kitchen gadget meets all of your slicing, grating and chopping needs. Choose the perfect thickness of your sliced vegetables with the easy-to-use adjuster dial and select the ideal size for your chopped vegetables by simply changing the inserts.
Bonus handheld spiralizer – compact and easy to use, the Fullstar mandoline slicer comes with a bonus 3 in 1 adjustable spiralizer. Unlike large units this kitchen gadget is easy to store and a breeze to clean as it is dishwasher-safe.
Keeping you and your family safe – we know our stainless steel blades are high quality and razor sharp. Our set therefore comes with a fingerguard and protective glove to keep you safe whilst you are using the spiral slicer and a cleaning brush and blade organizer for when you aren't. The abs plastic is nontoxic and bpa free guaranteeing healthy meals for your family.
No mess and no slips – our catch tray makes cooking so much more convenient, no mess and no messing around! It makes cleaning effortless and our non-slip base also makes your slicing, chopping and grating that much easier. Plus the slicer chopper is entirely dishwasher-safe (top rack) .
What can I do with diced celery?
There are many things you can do with diced celery. Some ideas include: adding it to soup, using it as a topping for a salad, or Adding it to a stir fry.
As you can see, there are many different ways that you can dice celery. Whether you use a knife, food processor, or mandoline slicer, the process is relatively simple. And, once you have diced celery on hand, there are many different ways that you can use it in your cooking. So go ahead and give it a try!
How do you Dice celery stalks?
To dice celery stalks, first cut off the root end and the leafy top. Cut the celery stalk in half lengthwise, then slice it into thin strips. Then, cut the strips into small cubes.
How do you peel and dice celery?
To peel and dice celery, first cut off the root and stem. Cut the celery in half lengthwise and then slice it in half again. Then, cut the slices into thin strips. Finally, cut the strips into small cubes.
How do you finely chop celery sticks?
Finely chopping celery is easy if you have the right tools. Start by cutting off one end of the celery stalk and discarding it. Then, cut the celery stalk into thin pieces by slicing lengthwise. Finally, use a sharp knife to chop the celery into small pieces.
Here's a tip: if you're having trouble chopping the celery into small pieces, try slicing it lengthwise first and then chopping it crosswise. This will make the celery easier to chop.