Don't you love how plants can seriously improve your home's ambiance and overall decor? And speaking of ornamental plants, you can't miss the heuchera varieties. These lovely plants offer a different structure compared to other plants, but there are many heuchera varieties to choose from. Continue reading and learn everything you need to know about the different heuchera varieties.
If you have decided to get a new plant to decorate your garden and house, you can't go wrong with the heuchera varieties. Whether you're expanding your collection or simply starting, a heuchera plant is a fantastic option. Heuchera varieties are praised for their ruffled and colorful ornamental foliage. Known for their fall colors, their nectar-rich flowers attract both butterflies and hummingbirds during spring and summer.
With so many varieties, it can be pretty difficult to identify them. One thing is for sure; you'll find a heuchera type that suits every environment and, therefore, a good taste. Discover how heuchera varieties can enhance your garden and elevate your plant collection to the next level.
Indian Hawthorn Varieties FAQ's
What are Indian Hawthorn plants?
Indian hawthorns (Rhaphiolepis species and hybrids) are mostly low-growing, evergreen, flowering shrubs. They are ideal low-maintenance plants with a dense mounded growth habit for use in small gardens and foundation plantings.
How tall does an Indian hawthorn get?
Most cultivars grow between 3 and 6 feet tall and about the same in width. A few are large shrubs that can be trained to a small tree form.
Is there a dwarf Indian hawthorn?
Yes, there are several dwarf varieties. Among the most common we find is the Dwarf Pink Indian Hawthorn, an evergreen shrub that grows to 3 feet tall and wide. Produces deep rosy-pink flowers in spring then intermittently through summer. Winter foliage turns bronze-red. It makes an excellent flowering hedge, specimen, or accent plant for your garden.
What are the general characteristics of Indian Hawthorn varieties?
Indian hawthorns are grown for their attractively neat, mounded form and clusters of flowers.
The fragrant, pink, or white crabapple-like flowers open in clusters above the foliage in mid-April to May.
Bluish-black berries appear in late summer and persist through the winter. The leathery, dark evergreen leaves are rounded 2 to 3 inches long, turning purplish in winter.
Indian hawthorns are sensitive to cold damage and should be sited in protected areas if grown in the upper part of South Carolina.
Plants prefer the sun, although they will grow in partial shade. Indian hawthorn prefers moist, well-drained soil, but established shrubs will tolerate drought.
It is tolerant of salt spray and sandy soils and is a good choice for coastal areas.
Pruning is rarely necessary. If pruning is needed, it should be done just after bloom.
What is the typical use for Indian Hawthorn?
In terms of landscaping use, the compact cultivars of Indian hawthorn are suitable for use as foundation shrubs, while larger cultivars may be used for hedges, mass plantings, or screening.
How far apart do you plant Indian hawthorn?
Space the holes 18 to 24 inches apart. Space holes 18 inches apart if you wish to plant multiple Indian hawthorn plants in a hedgerow or 2 feet apart for mass planting.
Is Indian hawthorn Hardy?
Indian Hawthorn bushes are winter hardy in growing zones 7 to 10. This is mainly grown in southern states as trim flowering hedges. Gardeners are also able to prune these into small ornamental trees or use them as a bonsai plant. The plants can grow from 3 to 6 feet tall and wide with a mounded growth habit.
How is Indian hawthorn classified?
There are several different varieties of Indian hawthorn, each with its distinct characteristics.
Standard Varieties
Indian hawthorn Majestic Beauty (Raphiolepis decourii "Majestic Beauty") forms 3- to 4-foot-tall and 6- to 8-foot-wide mounds of evergreen foliage accented with bright white and pink flowers.
Umbrellata is a variety that exhibits an abundance of white flowers. This variety grows 4 to 6 feet tall.
Dwarf Varieties
Widely used as an ornamental foundation planting.
Fascination is a popular variety of Indian hawthorn. A dwarf variety, the low-growing bush bears pink and white flowers.
The Clara variety grows up to 4 feet tall with white flowers. New growth on the plant has a reddish tinge on the leaves.
The 3- to 4-foot-tall Springtime variety produces masses of pale pink flowers.
The Ballerina variety only grows from 1 to 2 feet tall and is covered with a mass of white flowers.
Indian Princess grows to 3 feet tall and presents vivid pink flowers. The leaves are tinged with red in autumn.
The Rosea Dwarf variety presents purple foliage in winter. Flowers are deep pink.
Pink Lady presents deep pink flowers and grows to 3 feet tall.
Spreading Varieties
Enchantress is a low-growing dwarf variety that exhibits fragrant pink flowers. The perennial evergreen only reaches a height of 3 to 4 feet at maturity. The richly colored green leaves assume a reddish tint in autumn.
The Indian hawthorn variety Snow White is a spreading, dwarf plant that displays thick clusters of white flowers. The leaves are somewhat variegated and lighter than other varieties of Indian hawthorn.
How to care for Indian hawthorn varieties?
Light
This shrub does best in full sun, meaning at least six hours of direct sunlight on most days. However, it can tolerate light shade, though it will be healthier and flower better with full sun.
Soil
Indian hawthorn can tolerate many soil types as long as there is good drainage. Soggy soil can cause root rot on the shrub. In addition, it prefers a soil pH that's slightly acidic to slightly alkaline.
Water
A moderate amount of soil moisture is ideal for Indian hawthorns. Young shrubs prefer consistently moist (but not soggy) soil, while established shrubs have drought tolerance.
Temperature and Humidity
This shrub thrives in warm climates with mild winters. It's been known to tolerate temperatures down to 5 degrees Fahrenheit, but the prolonged cold can damage the foliage and even kill the plant. On the warm end, the shrub can handle temperatures well into the 90s. It prefers a moderate amount of humidity.
Fertilizer
Indian hawthorn shrubs aren't heavy feeders. However, they will benefit from a feeding in the spring of an all-purpose, slow-release fertilizer.
Pruning
These shrubs don't need a lot of pruning, as they naturally grow in an aesthetically appealing mounded shape. You can remove any dead, damaged, or diseased stems at any point in the year.
How to combat Indian hawthorn's pest problems?
Deer often like to munch on Indian hawthorn shrubs. Indian hawthorns also are susceptible to some insect pests, including aphids, nematodes, and scale. You can use an organic neem oil spray to combat any infestation. You can also prevent such diseases by keeping the foliage dry and ensuring good air circulation.
Indian Hawthorn Varieties
Compact mounded shrub with significant, dark, green, highly disease-resistant foliage changes to a dramatic burgundy-red in cold weather. Clusters of pink buds open to pale pink flowers, which fade to white, followed by a small blue-black fruit evergreen.
Its versatile qualities make this compact shrub and its dense evergreen foliage extremely popular in landscaping. New growth has red leaves that transform into dark green in summer and are accented with creamy white fragrant flowers that bloom in spring.
This compacted moderate-growing plant grows as tall as 4 feet. Best performs as a low hedge, accent, foundation, ad border plant.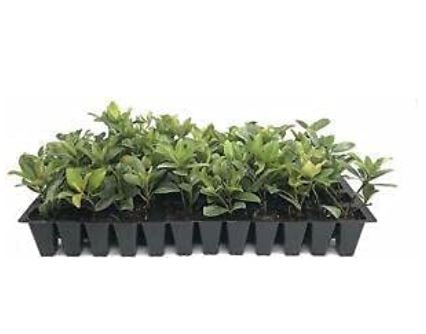 Features:
Border plant
Flowering shrub
Indian hawthorn (Rhaphiolepsis indica) is a small, slow-growing shrub perfect for sunny locations.
It's easy to care for because it keeps a neat, rounded shape naturally, without the need for pruning.
The shrub looks excellent year-round and becomes a focal point in spring when large, loose clusters of fragrant, pink, or white flowers bloom.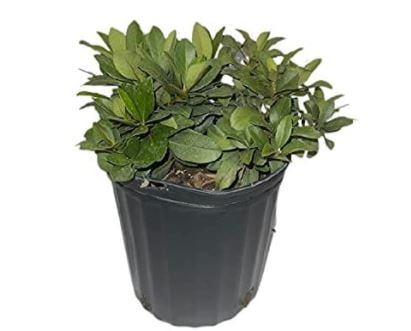 Features:
Dark-green Color
Year-Round, Spring Blooming
Partial Sun
The Eleanor Taber Indian Hawthorne is a densely branched evergreen with lustrous dark green leaves.
In spring, Eleanor Taber will produce an abundance of tiny pink flowers followed by small black fruits developed in mid-summer.
Once established, this shrub is drought tolerant and easy to maintain because of its uniform mounding growth habit. Fertilize this Indian Hawthorn in spring with slow-release fertilizer for best results.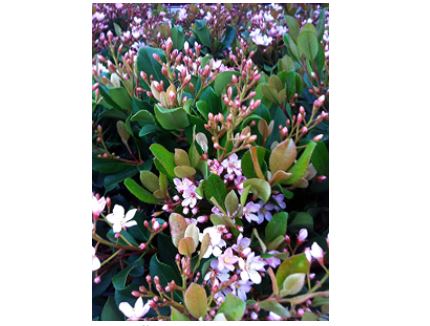 Features:
Shrub & Hedge
Winter to Spring and Fall Blooming
Pink color
Snow White Indian Hawthorns are characterized by having compact and spreading with slender lance-shaped pale green leaves.
In mid-spring, Snow-white put on a show of tiny white blooms. Plant Snow White in well-drained garden soil and an area that will receive full sun to part shade.
For best foliage density, make sure to fertilize in spring with a slow-release fertilizer.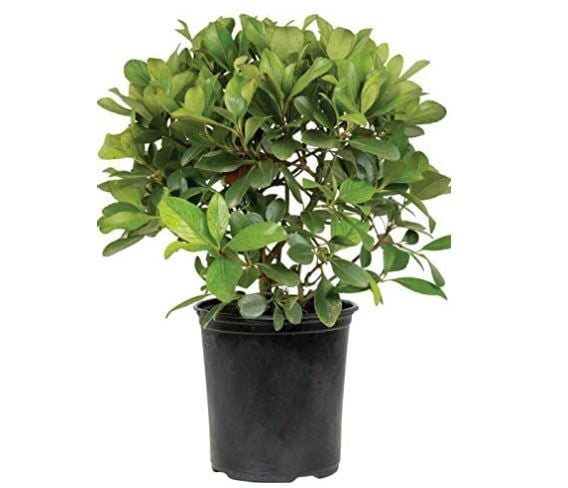 Features:
Shrub & Hedge
Outdoor usage
Full sun to part shade
Related Products