Whether you are a poncho collector or don't know what to wear for that weekend outing, a trendy, comfy, lightweight, or warm poncho may be the answer to your wardrobe situation. Ponchos are definitely in style and are incredibly versatile; they are casual and trendy enough to be worn for nearly any occasion. The reason why today, we'll be showing you different types of ponchos,
Ponchos are great to go to a party with friends or to an event of any sort. When paired with the right accessories, a poncho can be a chic look; these can also be found made of different materials which can make you feel comfortable and protected from the coolness of a night in the mountains.
As you can tell, ponchos are pretty adaptable, and the best part of ponchos is that they are flattering for virtually any body type. Now you can ditch your old coat and that jacket you always wear for a classy or upscale version of a poncho to make a fashion statement. Check out different types of ponchos and more valuable tips.
Types of Ponchos FAQ's
What are those ponchos called?
Ponchos have numerous names; they are also known as women's poncho, serape Mexicano, women's cloaks, manta, shawl, mantilla, lliqllas, aguayo, gabán, pala, or ruana. They all describe the same family of garments: a folded piece of fabric (or two pieces of fabric joined together) made to be worn over the head or wrapped around the body.
What's the difference between a ruana and a poncho?
A poncho is essentially a large square of fabric with an opening in the center for the head. The ruana is a version of the poncho, originating in the cold Andes Mountains. It's the same large square of fabric, but instead of an opening for the head, this style has a slit down the front to the hem.
What is a Mexican poncho?
The poncho, a well-known sleeveless garment with unsewn sides and a space for the head to pass through, has its origins in South America along the Andes Mountains.
Are ponchos in Style 2021?
On the Fall 2021 runways, designers deemed ponchos a trend-worthy silhouette, while they've been a standby on the runways at Chloé and Max Mara for years on end. Energized with new color combos and textures.
What are Native American ponchos called?
Some people also call it a "serape", "manta", "mantilla", "aguayo", etc. But the most popular and known worldwide name remains to be "poncho." This outerwear item was invented by the indigenous Native American tribes a long time ago and still is the beloved outerwear of the locals today.
What are the most common types of ponchos?
Oversized Poncho. If you have to leave the couch, throw on this poncho, fixed with a dramatic collar and wide flowing sleeves.
Capes Poncho. The capes poncho is usually refined and straightforward. Generally designed in a Mexican style, it is pleasant to wear during the colder season; the particularity of this poncho is that they are timeless so that you can keep them for many years.
Fur Poncho. The fur poncho is trendier during the low-temperature seasons, making it perfect for winter outings.
Rain/Hooded Poncho. As the name indicates, these types of ponchos offer excellent protection from rain. It has the ability not to absorb water, thus keeping you dry at all times. It is made of waterproof materials with a simple opening for the head. It usually incorporates pockets, and it is slightly longer than other versions.
Turtleneck Poncho. They wrap the shoulders nicely and are pretty simple and easy to combine. Looks great over jeans or slim pants, giving you a sophisticated yet modest style.
Types of Ponchos
Wearing this poncho during cold fall, winter, or spring days would be good, durable, and used long-term. You can use it as a shawl to attend an evening party or as a wrap when you go out for a beautiful travel.
Stylish knit color block poncho wrap displays an elegant pattern, perfect for a fantastic day to keep you warm at the office or outside. Great for travel or somewhere with changeable weather, a wonderful evening, etc.
It is made of premium fabric, soft, comfortable, and breathable.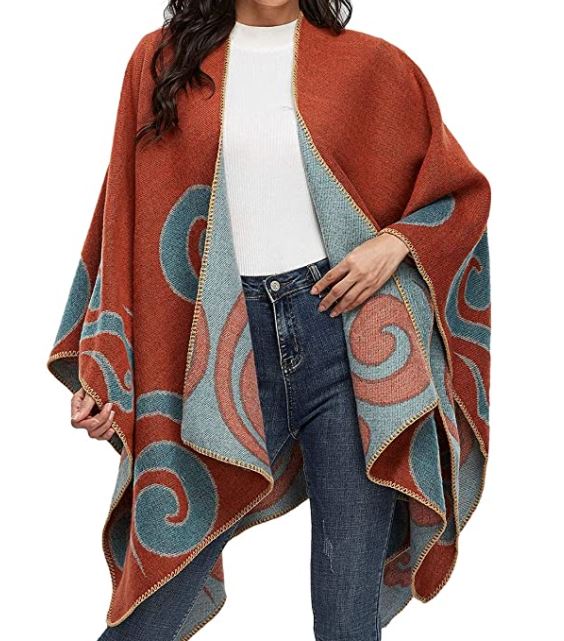 Features:
Stylish
Versatile
Open front
This loose turtleneck flows out beautifully in a poncho style. And don't forget about the pretty cable stitches along the side of the sleeves. Pair it with some slim-fitted bottoms for a match made in heaven – work-worthy and lounge-worthy.
Elegant with flattering, this sweater allows for a poncho look but with the ease and comfort of solid sleeves. Because of the poncho style, the sleeves are pretty wide.
You can enjoy a dramatic sleeve, especially great because they are not overly long or even so wide that they get in the way.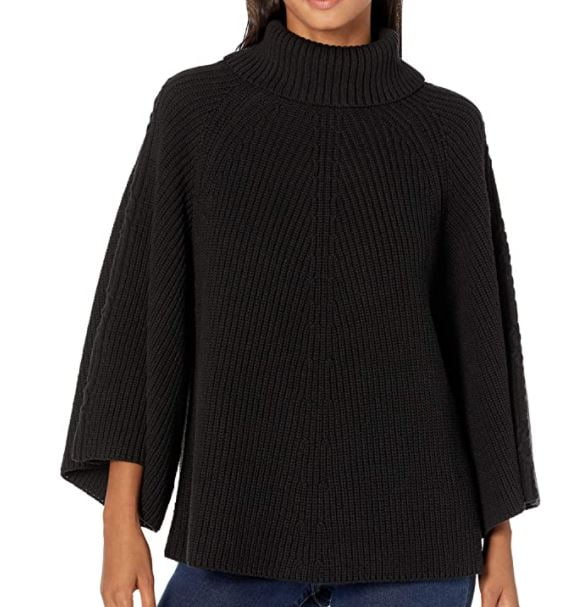 Features:
60% Cotton, 40% Acrylic
Machine wash
Loose turtleneck
This comfortable faux fur-trimmed poncho will make you feel like a celeb without having to spend much.
This poncho with bat-winged sleeves and armholes would be perfect to wear to any special or casual event.
This fleece-lined poncho is made of high-quality acrylic that is soft and warm with super soft faux fur trim.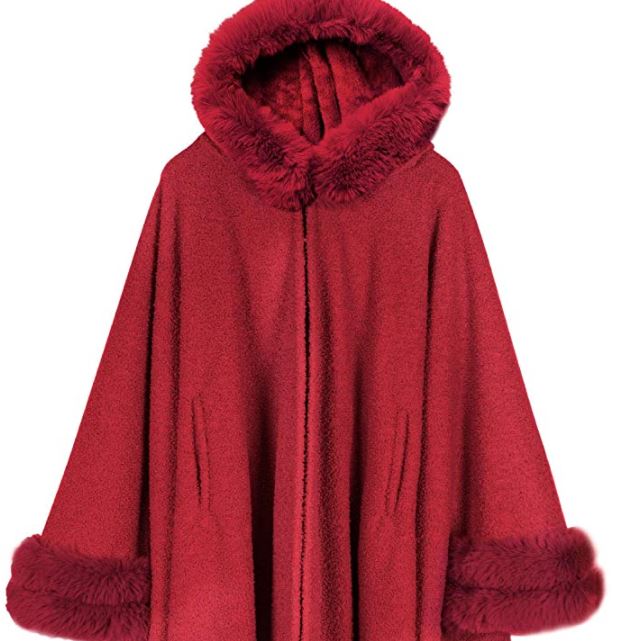 Features:
Hand wash only
Faux fur
Glamorous look
Classic rain protection plus durability. The totes Unisex Rain Poncho boasts total coverage for those outside events and activities.
Designed with a soft EVA plastic fabric, this poncho will allow you to stay comfortable for hours of wearing it.
Made to be reused, this poncho folds down to a compact size and includes a mesh carrying bag for easy handling and drying when not in use.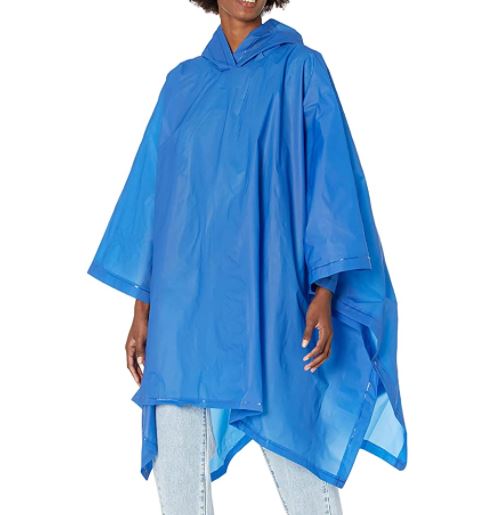 Features:
Mesh
Machine Wash
Classic style
A great layering option for an ocean breeze, fresco dining, or just a chilly office! With a 6-button closure and ruffle at the hem, looks great over your favorite dresses for an evening out or over a woven blouse for a day about town.
The fun part is this elegant buttoned poncho is designed to wear in multiple ways, it allows you to create a fresh look each time it's worn. Drape it across shoulders with the buttons on either side of the shoulder to make it an asymmetrical poncho.
Made of premium soft and stretchy fabric, this poncho for women is very light-weighted, and the thickness is perfect for wearing in Spring, Summer, and Autumn as layering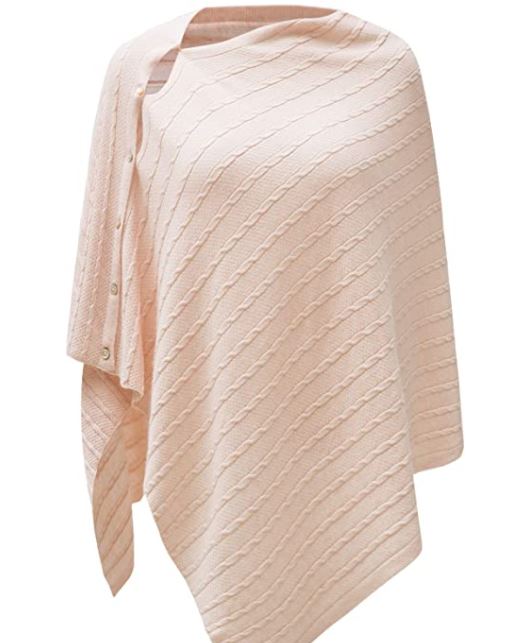 Features:
Versatile
Stretchy fabric
Light-weighted
Types of Ponchos Styling Tips
Consider pairing a poncho with form-fitting items like pants or even pencil skirts – this is one of the best looks for this type of outerwear.
Dress up a pair of blue jeans or slip a poncho over your head or around your shoulders to go with your neutral-toned slacks as you head out to work on a chilly day.
A wool poncho may be just the thing you need before the weather turns wholly frigid and you're looking for your longest, warmest peacoats and down-stuffed quilted winter coats.