Did you know lawn grasses are the most grown crop in all of America? Sounds fitting, considering the American dream of a well-manicured lawn with white picket fences, right? Reports show that an estimate of 40 to 50 million acres of land in the United States is covered with lawns. Keeping all of it maintained seems like a Herculean task unless you have the right lawn tools to use!
Among these tools is the lawn edger, which has been used since the 1940s to keep lawns tidy and maintained. The practice of lawn edging started back in the 18th century, with gardeners putting materials along the outer margins of planted areas or along the walkways. Edging was previously made of an inert material like wood or stone or plants like boxwood.
Nowadays, the edging process has changed quite significantly. Lawn edgers are now used in this process, and they cut a trench between the grass and other others using really sharp blades. Your lawn edger can even be used to trim the grass on the edge of your turf where mowers can't reach.
If you've been looking for an effective and efficient lawn edger, you've come to the right place. Today, we will discuss the different types of lawns available and how to pick the best one for your needs. Let's get mow-ing!
How to Buy the Best Lawn Edger?
Now that you know exactly what properties to look out for, here are some of the most popular types of lawn edgers to choose from.
Gas Lawn Edger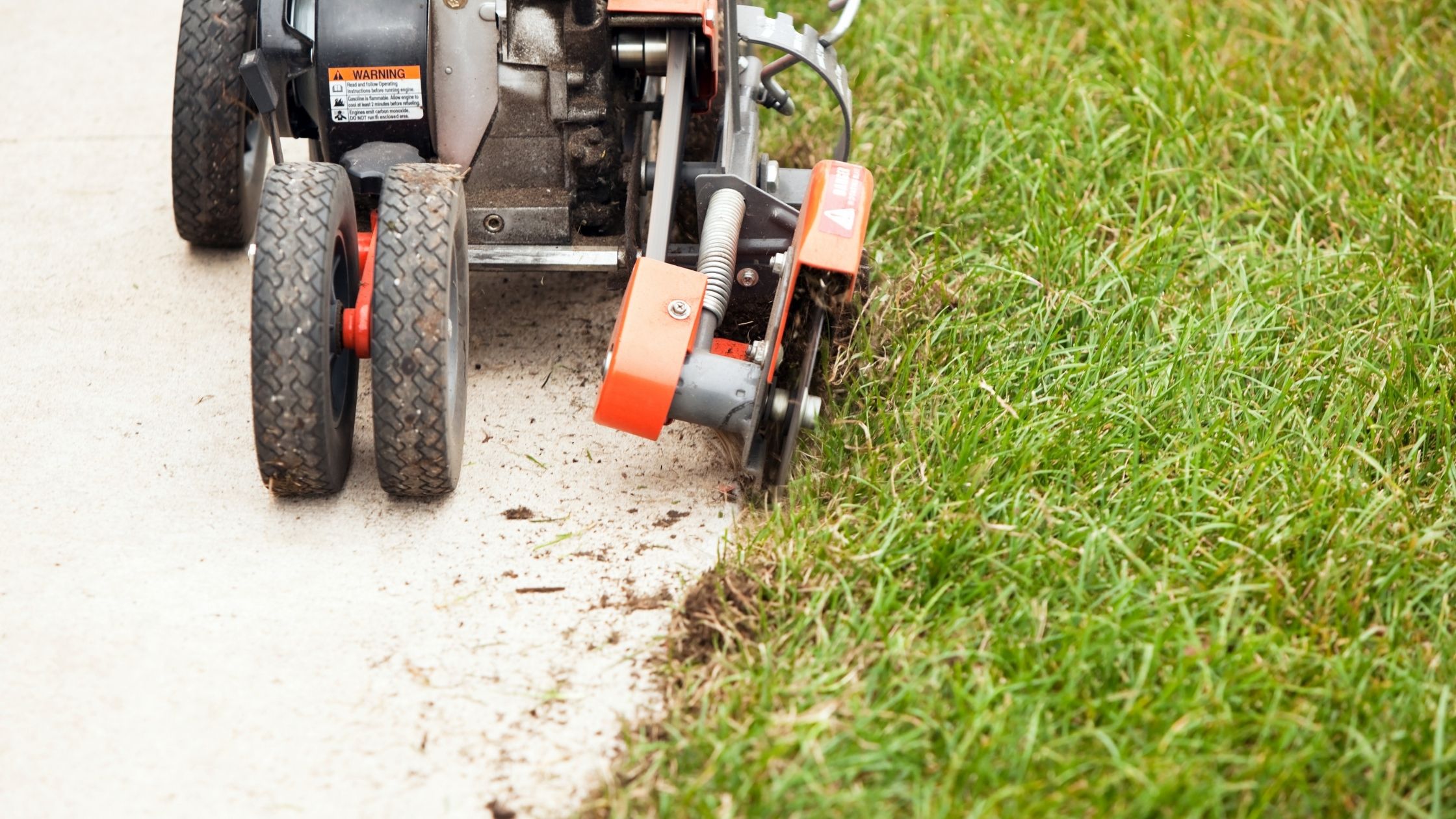 A gas lawn edger is best for families with a larger yard and lots of areas to edge around daily. Since edging can take as much time as mowing your lawn, you'd want to cut down this time as much as possible. Gas-powered machines make this possible, and they're quite easy to use too.
There are a few points to consider, though. Firstly, if you don't want to mix oil and gas, be sure to look for an edger with a 'no mixing' label. Secondly, keep in mind that the higher the gas tank capacity, the more your edger will weigh. If you don't want to lug heavy pieces of lawn equipment around every other day, be sure to opt for a lower gas tank capacity.
Manual Lawn Edger

Manual lawn edgers come in three varieties;
Space-based

Hand shears

Roller based
In manual lawn edgers, you are the power that makes the machine work. Therefore, not only is it more time-consuming and tiring, but it is also not suitable for people with large yards. These come in the typical edger design with a rolling wheel that has spikes on it. The wheel is joined to a wooden handle which you operate.
These lawn edgers are simple and help homeowners spruce up their yard without lugging heavy machinery and fetching petrol from the nearest gas station.
Electric Lawn Edger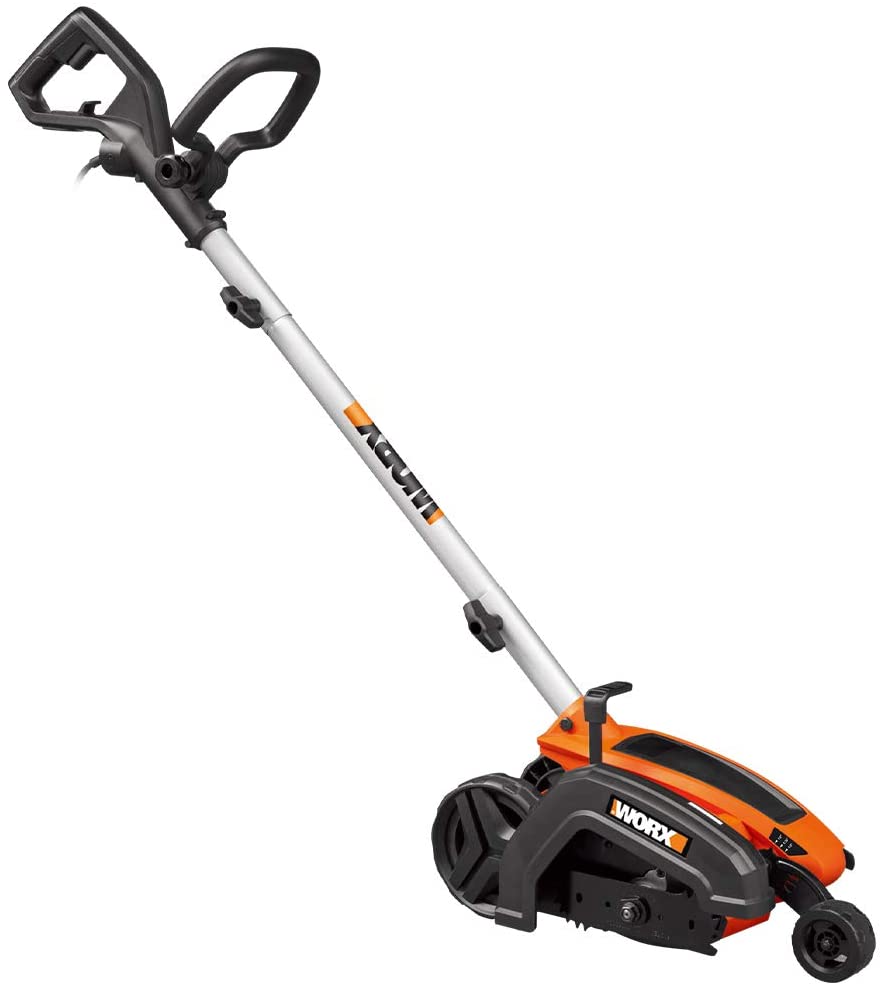 If you want a small, lightweight lawn edger that quickly gets the job done and doesn't require you to do much more than simply walk around with it, then electric lawn edgers are perfect for you. Corded electric edgers have 10 to 12 amps of power and a strong blade to cut through the weeds. Your blade should be 7 to 9 inches, and the machine should have a special feature that ensures the cord doesn't get tangled up.
Cordless Lawn Edger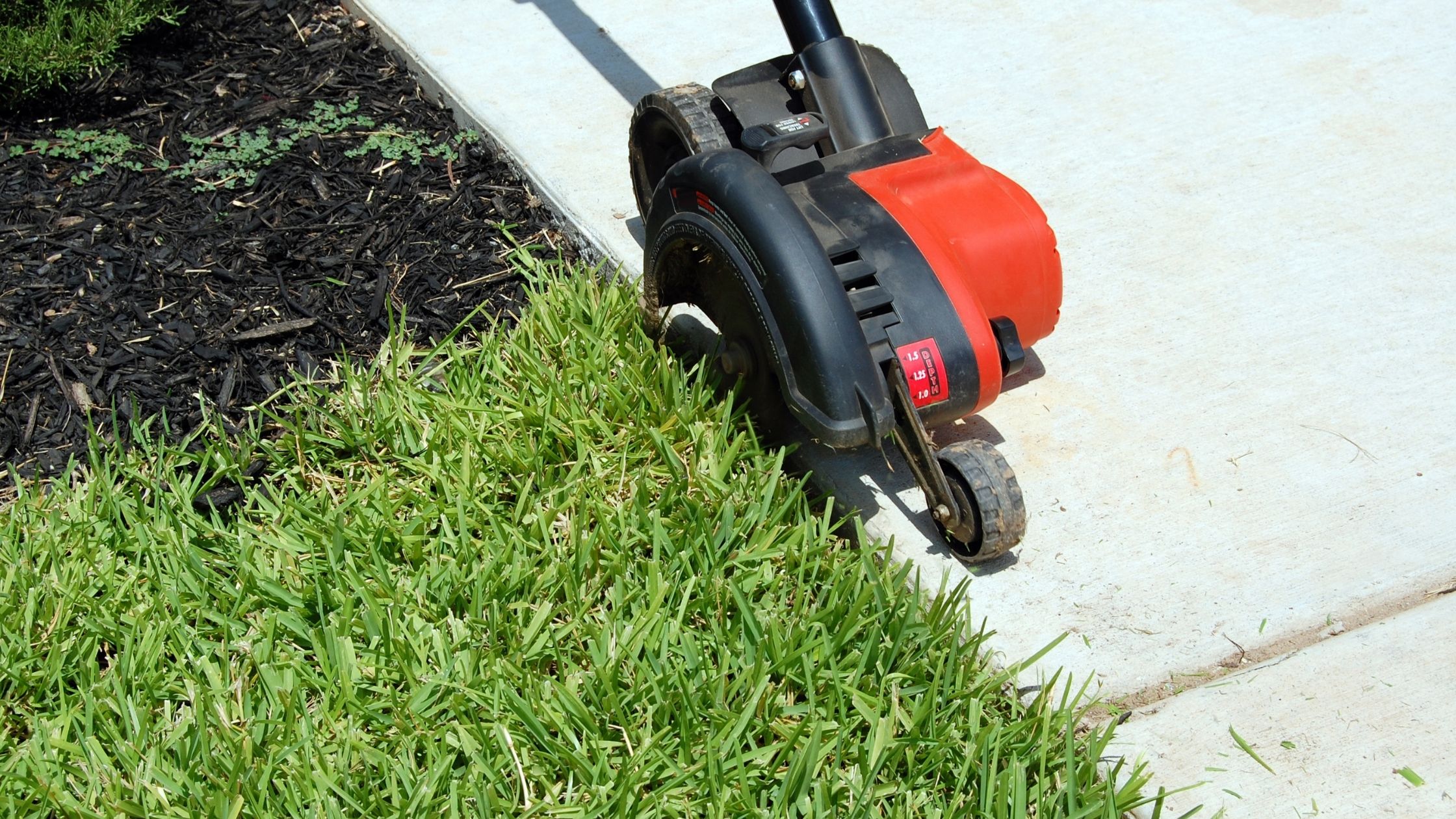 Cordless lawn edgers, or battery-operated edgers, are easy to handle and start-up quickly. The best part is that you won't have to deal with the inconvenience of dragging a cord behind you. Moreover, the batteries last for a long time once they have been fully charged. The cherry on top is that cordless lawn edgers come with removable batteries that can be used in other gardening tools of the same brand too!
Petrol Lawn Edger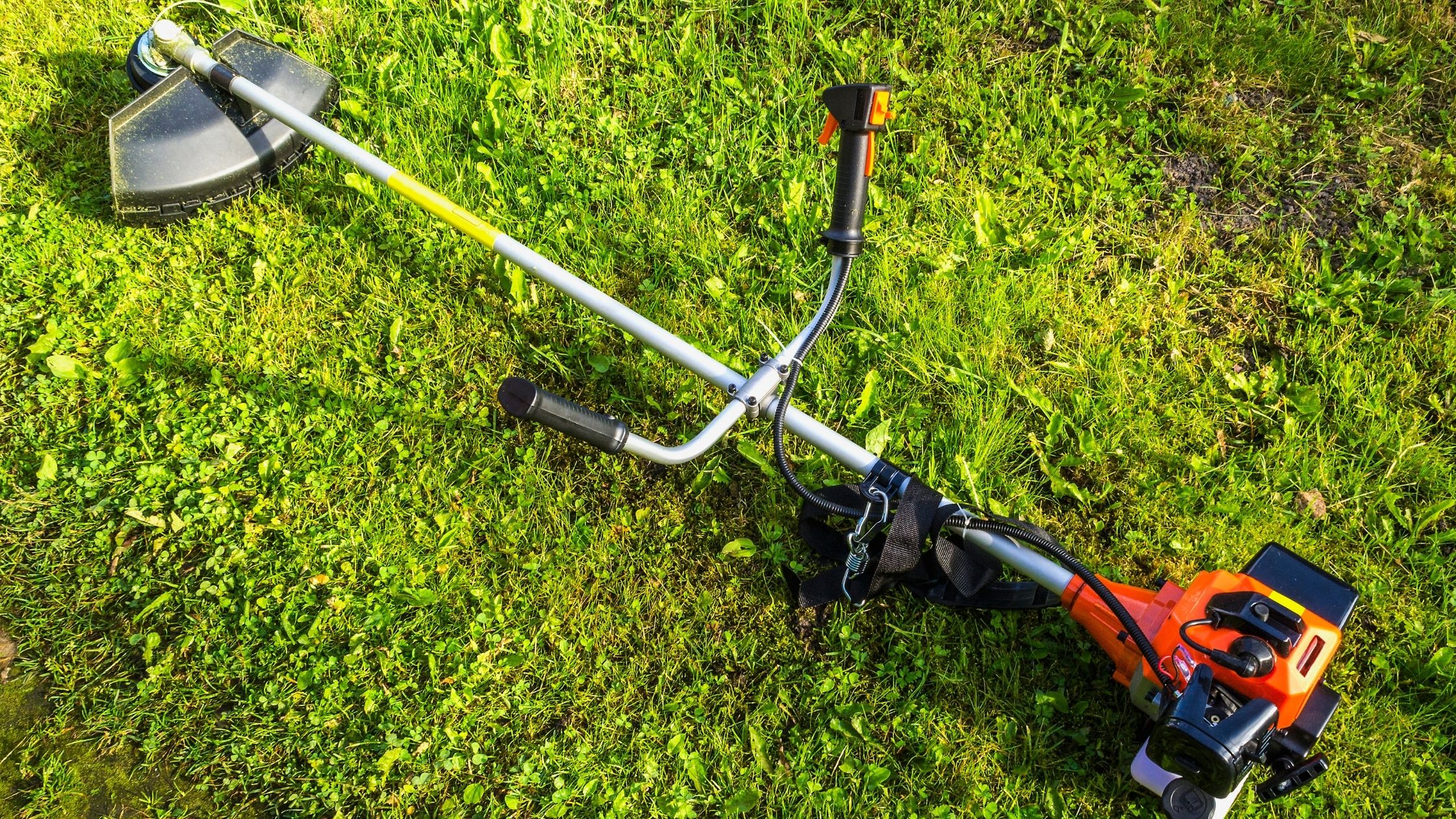 If you have a big lawn space, your electric lawn edger probably isn't doing too good a job due to the limited sizes of extension cords. This is where a petrol lawn edger comes in. They're great if you have a huge outdoor area that needs to be maintained regularly. But these edgers can be a little on the pricey side, so you need to be careful in picking out the right one for your needs.
Petrol lawn edgers come in two variants; the 4-stroke engine and the 2-stroke engine. The former is more powerful and emits less pollution, making it very environment-friendly. However, it is heavier to carry from your shed to the lawn and takes up a lot more room. It can also require extra servicing and maintenance like changing the spark plugs or replacing the fuel filter.
On the other hand, we have the 2-stroke lawn edger. This is the perfect choice for a typical suburban lawn, also making it one of the most common types of small petrol engines. These do produce smoky exhaust fumes, though they aren't as eco-friendly as the 4-stroke engine.
Factors to Consider for the Best Lawn Edger
Before you figure out what type of edger I need, you should first know what factors to look out for. Be sure to go through all of them before you make a purchase, as they will help you find the best lawn edger within your price range.
Your Yard Size
The very first thing you need to look at before buying a lawn edger is the size of your yard. Since you will be using the lawn edger around any driveways, sidewalks, and the perimeters of your flower beds, you need to know exactly how much land you will cover regularly.
This will help you determine how powerful a machine you need and whether it should be with or without electrical cords. If you have a stunning, large lawn, it would be wiser to spend a little more money for a larger, more powerful machine, so it does the job well. For people with a small outdoor space, a manual machine would work.
How Much Time You Have
Another equally important factor to consider is how much time you're willing to put into your lawn maintenance. Edging a yard takes time, especially if you have an expansive space to cover. With people leading increasingly busy lives, most of us don't really have hours to spend manicuring our lawns. If you do, good for you! A simple manual lawn edger with a small blade would be a great pick for you as it gets the job done and offers the satisfaction of a hard day's work.
Contrary to this, if you're at work all day and only get limited to head out to the lawn, consider investing in a more advanced machine that takes lesser time.
Price Point
You may have seen lawn edgers costing as low as $100 in the market. Tempting as it may be, we recommend not opting for the cheaper options when you buy your lawn edgers. They may seem like an attractive option, but what good an edger that breaks down in a few months do for you?
On the other end, we have expensive gas-powered edgers that can cost thousands of bucks. Therefore, a good practice is to set a budget for yourself before you go shopping for lawn tools. A price range of $200 to $500 should get you an efficient machine that takes good care of your lawn. Here is a breakdown of the different types of edgers;
Manual lawn edger – $50 to $70

Electric or cordless lawn edger – $90 to $200

Gas lawn edger – $300 to $700
Type of Engine
For electric edgers, the type of engine doesn't really matter as much. But if you're on the lookout for a gas-powered machine, then choose a 2 or 4 cycle engine. A 2 cycle engine requires oil and gas to be mixed, while the four-cycle engine operates more smoothly ( but also costs more!)
Power Supply
Lawn edgers are available in many different kinds of power models including, electric, gas, manual, etc. Picking out the right power supply for your needs is essential to getting the perfect results on your lawn. Residential purposes usually just need a manual or gas-powered lawn edger with a pull cord. If you opt for these, make sure the packaging is labeled 'easy start.' After all, you don't want to spend 10 minutes just pulling the cord repeatedly, begging for the edger to power up!
You can even find gas-powered lawn edgers with an electronic start to make things a little easier.
Additionally, there are manual and electric lawn edgers, too, so you can pick the one that suits your needs right. In any case, you would need your lawn edger not to get bogged down and defeated by heavy foliage around your property. So, be sure to get a minimum torque of 4.75, and the motor's horsepower should be more than 3.5 for the usual sized yard space.
Final Thoughts on How to Buy the Best Lawn Edger
There you have it, everything you need to know about what type of lawn edger do you need. Be sure to pick out the best one with all the desirable features within your price range. You should also consider how you can incorporate lawn edging into your daily routine. Perhaps head out to your yard after having a nice breakfast on the deck or do it in the evening once a cool breeze blows. No matter what time you pick, maintaining your lawn is a great way to spend some relaxing time outdoors, so be sure to try doing it yourself!
Read: Types of Trowels