Are we looking for the right ladder for the home, garden, or next decoration project? We hear you!
Ladders are an essential tool at home, and the right ladder should be convenient, safe, and durable—the reason why we'll be sharing with you everything about different types of ladders.
The right ladder choice is about more than height; they come in handy for all sorts of circumstances.
Whether you need to finish a painting project, change light bulbs, or scale rooftops, ladders can save the day in a given situation.
That said, ladders can be found in different types, and it is just not practical to have a lot of ladders; instead, you should focus on your specific needs.
And with so many options, it can become overwhelming to make the right choice. So we are here to help and point you in the right direction by offering different types of ladders for your choosing.
Different Types of Ladders
Different types of ladders by Lenght.
Single Pole Ladders (maximum length 9 meters)
Extension Ladders (total length 15 meters)
Step Ladders (maximum length 6.1 meters)
Dual Purpose Ladders (stepladder hinged to provide an extension)
Different types of ladders by Class.
Class 1, Class EN131, and Class III are the three main ladder classifications. Each category indicates the safe working load that a ladder is designed to support.
Class 1
Ladders are designed for light use around the home. Examples of Class 1 ladders include A-frame and step ladders with a maximum safe working load of 150kg.
Class EN131
Class EN131 ladders are designed for medium to heavy commercial or industrial use, such as window cleaning, roofing, and scaffolding. This category's maximum safe working load is 175kg and includes double-sided step ladders, extension ladders, and combination ladders.
Class III
The strongest of all ladder classes is Class III. Ladders classified as Class III have a maximum safe working load of 200-225 kg and are suitable for heavy-duty industrial use such as construction work or utility work. Examples of Class III ladders include heavy-duty warehouse ladders, platform ladders, and articulated ladders.
Different Types Of Ladders By Grade.
1AA: Construction and industrial use; special duty with a load rating of 170 kg (375 lbs) 3.6 m (12 ft)
1A: Construction and industrial use; extra heavy-duty with a load rating of 136 kg (300 lbs) 6 m (20 ft)
1: Construction and industrial use; heavy-duty with a load rating of 113 kg (250 lbs) 6 m (20 ft)
2: Tradesmen and farm; medium-duty with a load rating of 102 kg (225 lbs) 3.6 m (12 ft)
3: Household; light duty with a load rating of 91 kg (200 lbs) 2 m (6.5 ft)
What are type 2 ladders?
Type I ladders are manufactured for heavy-duty use.
Type II – These ladders have a duty rating of 225 pounds. Type II ladders are approved for medium-duty use.
Type III – These ladders have a duty rating of 200 pounds.
How are ladders classified?
Ladders by Concept
Rigid Ladders. These may be stand-alone or self-supporting. Some models may need to lean against a vertical surface, such as a wall, for support. This version is usually portable. However, some types are permanently fixed to buildings, structures, or equipment.
Rollable/ Rope Ladders. These are flexible types and need to be hung from the top.
They are generally made with high-quality rope, a combination of wood and ropes, or metal and ropes. They feature two long cords that hold the steps or the rungs.
Ladders by Design
Stepladder. The most common and popular variation is the step ladder. They are self-supporting or stand-alone versions. When fully opened, they look similar to the letter "A" You can use them anywhere you need.
Extension/ Sliding Ladders. These are another popular option. They are straight ladders and extendable so that you can reach high places. Of course, they need support, such as a tree or wall, to stand on their feet.
Telescoping Ladders. They are extendable, but you don't need to get confused with the extension ladders. This version allows you to adjust the height by sliding out or in the steps according to your needs.
Folding/ Multi-Purpose Ladders. These are the most versatile option. You can set them in many different ways according to the need for your jobs.
Platform Ladders. They are almost similar to step ladders in terms of "A" shape. But they feature a platform instead of the top rungs.
Attic/ Loft Ladders. These are retractable and designed for installing into the ceiling.
Painting Ladders. These are the conventional type designed for painting. They have an A-shape frame that includes a shelf or platform.
Orchard Ladders. The unique design features a triangular base that looks like three-legged step ladder. They compact at the top section as the top steps gradually become narrower than the bottom.
Roof Ladders. These are also known as cat ladders or chicken ladders. They come with an extendable design and include a large hook at the top section gripping a pitched roof ridge.
Ladders by Material
Plastic Ladders. These are the cheaper option available. They are made of polyester resin with glass-fiber reinforcement.
Wooden Ladders. These are the least versatile, least durable, but most affordable versions. They are not perfect for outdoor uses as wood tends to warp, splinter and chip.
Aluminum Ladders. They are more durable and lightweight than the wooden version. But they are pricier than the wooden counterpart. As aluminum is a conductor of electricity, this type of ladder is not recommended for electrical work.
Fiberglass Ladders. These are slightly heavier than their aluminum counterparts and more expensive. They are more durable and can take rough handling; suitable to work with power tools.
Steel Ladders. These are the best ladders used in construction sites but are not an ideal option for the DIYer. They are unbeatable for industrial uses.
Different Types of Ladders Reviewed In This Guide
The upgraded steel frame of the step ladder with handles can support 500 lbs. Provides a height of 38 inches. The standing platform measures 15″ X 10.25″.
The two feet can stand entirely on top. The middle metal beam increases the load-bearing capacity and the ladder's stability.
Two extra non-slip handrails are placed on both sides of the ladder, and a layer of the non-slip mat is added to the step surface to make you more stable and confident at work.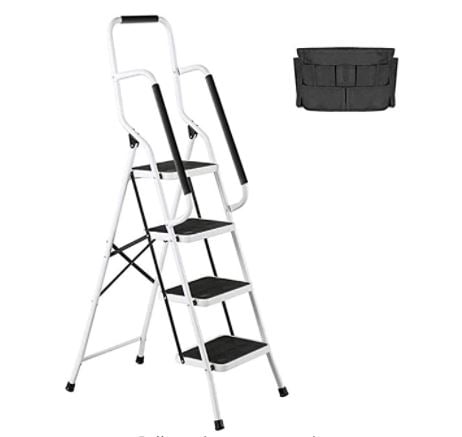 Features:
Anti-slip design
Large area standing platform
Independent safety lock
The Little Giant Velocity is a lightweight two-person ladder constructed of a special alloy that makes it 20 percent lighter than any comparable industrial-rated ladder.
The Velocity also includes several innovative new features, such as the dual-pin hinge and the easy-to-use Rock Locks for quick adjustment.
The Velocity's wide-flared legs and aerospace-grade aluminum construction provide an unmatched feeling of safety and stability. The Little Giant Velocity is rated to hold 300 pounds on both sides and is a proper two-person ladder.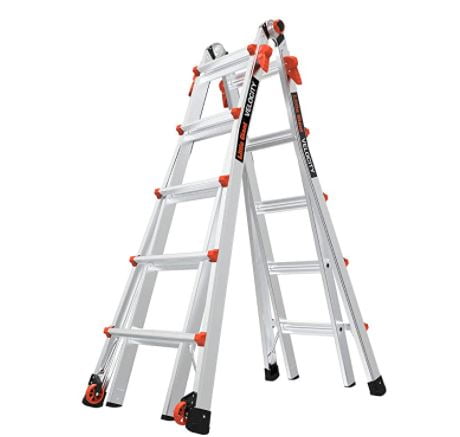 Features:
Aluminum
Multi-position ladder
Tip & Glide wheels
Featuring a durable Aluminum design + industrial-grade height-locking latches + solid anti-slip rubber-tipped feet, and + Support Bar, Safety Standard EN131 approves the telescopic ladder.
Separate mechanical locks on rungs 2 to 15. The independent locks allow users to adjust the ladder's height to specific requirements, such as repairing ceiling lights, hanging picture frames, and painting walls.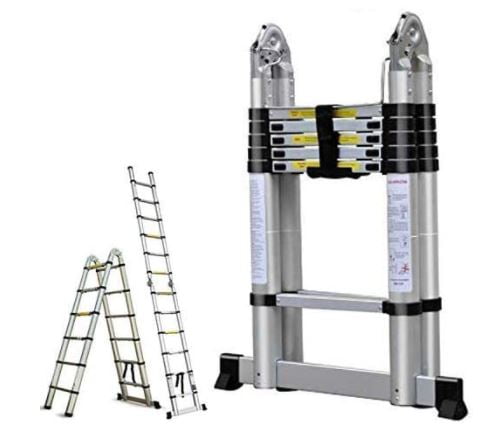 Features:
Aluminum
Independent Locking
Compact
This 16-foot Louisville extension ladder has a load capacity of 300 pounds. It is excellent for working on electrical, utility, light construction, and residential jobs.
It features D-shaped rungs that are fully serrated for a slip-resistant surface. It has mar-resistant rail end caps to protect landing surfaces and provide longer life.
The heavy-duty plated steel shoe with thick rubber treads makes this ladder safe and easy to use.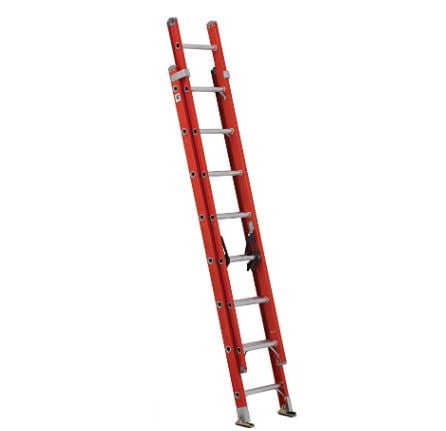 Features:
The ladder can be adjusted into four different positions, including step, straight, stand-off, and scaffold positions to accommodate other usages around your house or your business.
A multi-purpose aluminum folding ladder is constructed from above industry standard heavy-duty rustproof aluminum alloy for ultimate durability while retaining lightweight portability. It can withstand a maximum weight of 330lbs/150kg.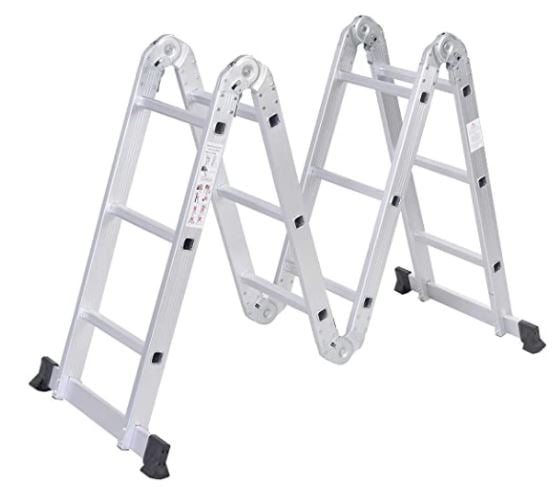 Features:
Multi-positions
Easy storage
Sturdy construction
No matter which ladder you choose, safety should always be your priority.
Always ensure the ladder is in good condition before using it, and never use a ladder rated for less than the weight of the person using it.
Additionally, be sure to use the ladder properly and follow all safety instructions provided by the manufacturer. With these tips, you can ensure that any ladder you use is safe and effective.
Thank you for reading!