Looking for Garden Hose Storage Ideas?
We are not going to debate whether you need a garden hose cause, chances are, if you have a garden at home, then you have a hose. And sometimes, something as insignificant as where to put your hose can keep us awake at night. The reason why today we'll be telling you about garden hose storage ideas.
If you have grown tired of seeing your hose lying around or worse, you or one of your family members tripped over it and nearly broke their neck; it's most likely the universe giving you a sign that you ought to get a proper garden hose storage. As you can see, having the right spot to keep your garden hose can save your life and your flowers.
But if you are new at the storing game, you may bump into quite a few options, and it can be a little overwhelming knowing what to choose. So we are here to help and point you in the right direction by giving you some of the best garden hose storage ideas, so you can finally maximize and declutter your space for good.
Garden Hose Storage Ideas
They are made of rigid metal, rustproof, and thickened, ensuring durability and long last. This well-made garden hose holder withstands much weight, so it is sturdy enough to hold a large hose and stay upright.
It is convenient to move and store if necessary. When you do not need to use the item in Winter, you can disassemble it easily and store it without taking too much space.
It has three anchor points, which give great support and ensure this hose holder stands firmly. Also, it can be placed anywhere and will keep your hose neat and ready to use right where you need it most.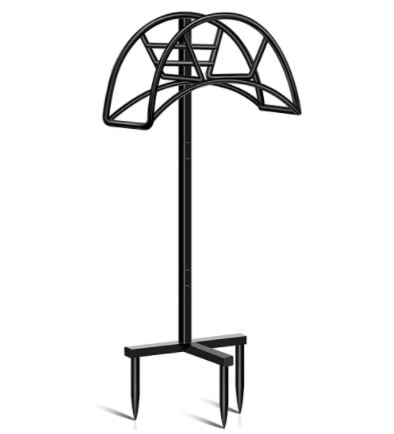 Features:
Elegant design
Detachable
Heavy duty
---
The hose reel box is built of durable resin and designed to complement any outdoor space. With a 100 ft. capacity, this hose reel takes the hassle out of watering your outdoor plants.
The robust and reinforced system ensures a water-tight connection between reel and hose. The hose utilizes a crank handle to make winding and unwind easy and kink-free.
Featuring a stay-up lid, the attractive design provides hassle-free storage, ensuring your hose is fully concealed to keep your landscape uncluttered.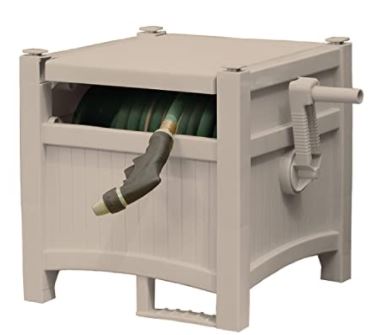 Features:
Hideaway hose reel
Durable
Tight seal
---
All cast aluminum construction that resists rust, durable powder coat finish is weather-resistant.
The saddle arc surface conforms to the characteristics of the hose, the hose is not easy to deform, and the service life is longer.
Heavy gauge cast aluminum with Powder Coated finish, this is one unit that will suit a variety of your hose reel needs.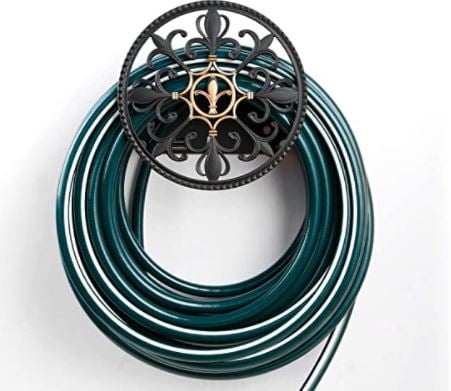 Features:
Holds 125-Feet of 5/8-Inch Hose
All cast aluminum construction
Durable powder coat finish
---
Perfect for your garden, patio, or front porch to hide your hose in plain sight. This hose pot will not rust, and it will keep your garden hose neat while not in use.
The high-density resin construction has a stylish, lightweight design that is durable and will not rust. This pot will compliment any home or patio.
The Wicker high-density resin hose pot is designed with an inlet port for water connection and drainage in the basin.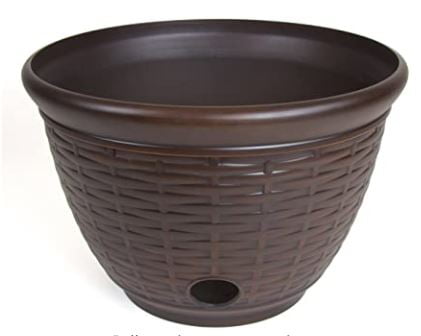 Features:
Holds up to 100-feet of 5/8-inch garden hose
High-density resin construction
Durable construction, will not rust
---
An integrated steel spring provides even, powerful retraction; the integrated hose guide prevents twisting and tangling of the hose.
In Winter, The hose box can be taken by the ergonomically shaped handle and effortlessly removed from the wall bracket for frost-protected storage. Wall brackets, screws, wall plugs are all included.
The high-quality hose is instantly ready for use in the required length. A quick tug of the hose after use is automatically, evenly, and securely rolled up.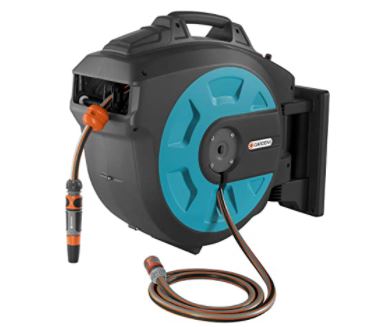 Features:
Auto roll-up
Frost protection
Powerful retraction
---
Common Questions About Garden Hose Storage Ideas
What is the best way to storage a garden hose?
In-store your hose on a hose hanger or shelf in a warm location like a shed or basement.
Why is proper storage for your garden hose necessary?
Proper storage, paired with other good practice hose care techniques, can extend your hose's life far past just one season of gardening. The great news is that storing your hose is far easier than you might think; you might even have the perfect storage vessel sitting around your house.
If not, purchasing a hose reel is an excellent investment that will increase gardening productivity and save you money over time on hose replacements.
How to choose a hose reel?
Hose reels are unanimously one of the best mechanisms for storing your hose. They make it easy and quick to roll up your hose after use, and they minimize the occurrence of hose winding faux pas such as kinks and tangles.
When selecting a hose reel, there are several different things to consider. You'll want to keep in mind your hose length, what types of functionality you are looking for, and your budget. Other factors include material, brand, and additional functionalities.
What types of hose reels can you find?
Decorative reel. Generally, the least expensive, most decorative hose reels are mounted.
Hideaway or box reels have similar functionality as decorative hose reels in that their primary advantage is appearance.
Retractable hose reels. Though convenient to put away, retractable hoses are often prone to breaking.
Stationary or mounted hose reels. As their name suggests, they are mounted to a post or a wall and cannot be moved. The drawback is not being able to reach all corners of your garden.
The cart hose reel is more expensive; its portability is helpful for gardens with a large surface area.
How do you store a hose outside?
You can extend the life of your garden hose by using a hanger. It would help if you used a hanger to store the hose after your work is done with a hose.
Where should I store my garden hose in the Winter?
Place the hose in a shed, garage, or another storage area. It should be dry and free from any weathering elements until the spring.
How to make your garden hose storage?
If you have ample enough metal pail to fit your three-foot looped hose, this is an easy option for hose storage.
Your second option can be a flowerpot. If they're large enough, they can be repurposed as decorative hose holders.
Additional Ideas Regarding Garden Hose Storage Ideas
A wall-mounted garden hose rack is the most budget-friendly option for storage as well as the most compact.
For something more heavy-duty or an extra-long hose, you need a reel cart.
If you're using a garden hose once or even twice a day, you might not want to put it in storage overnight. A freestanding hanger is the best of both worlds.
If you like the idea of a garden hose reel cart but don't want it standing in the way or creating a patio eyesore, a hose box is a clever, stylish storage solution.
Technically, you could use any large, all-weather planter as a hose pot, but the difference between a garden hose pot and a regular planter is a specific hole on the side at the bottom of the pot.