While gardeners often do not talk about their favorite gardening tools, a few might disagree with the fact that a good pair of pruning shears is an indispensable gardening tool. So I thought it would be great if you learn more about pruning shears. 
Different types of pruning shears are designed for specific functions, so only when you know about the types of pruning shears can you decide on which pair is best for you. So let's get started with types of pruning shears. Once you have the relevant information, I will also discuss a few critical factors as you choose a pruning shear for your garden. 
Types of Pruning Shears
You can find several different types of pruning shears for your garden, but only when you know the details of each type, can you choose the right pair of pruning shears that will make your task much easier for you.
So let's get started. 
Pruning Shears 
Pruning shears, also known as hand shears, are responsible for cutting through small stems, twigs, and branches. Using pruning shears, you can cut through small branches up to a diameter of 3/4 inches, so pruning shears are an excellent tool for small plants, including vegetable and rose plants. 
If you look at the design, pruning shears have two blades that work together. While they are a great tool for pruning smaller plants, you should not use them to cut any thick branches. Hand shears can be further classified into three categories, which include the following. 
Bypass Shears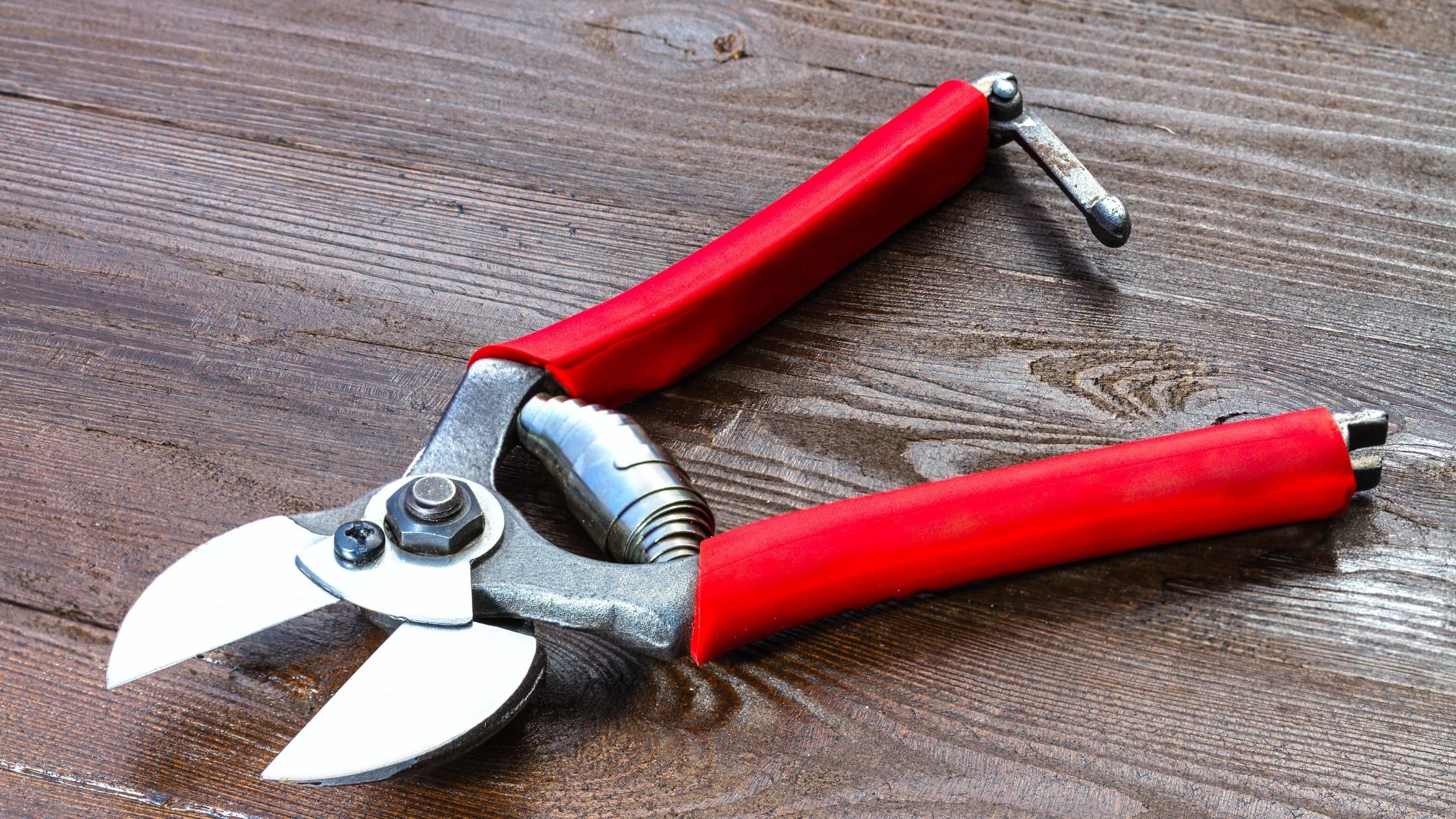 This pruning shear gets its name due to its unique design where a sharpened upper blade bypasses the lower unsharpened hook. With this unique design, there is lesser crushing damage to the plant. Moreover, bypass shears are the easiest tool to use, making them an excellent choice for novice gardeners. 
In addition to ease of use, bypass shears can be used to cut any type of plant growth and is ideal for both right-handed and left-handed users. Finally, bypass shears are quite affordable and hence a must-have gardening tool. 
Anvil Pruner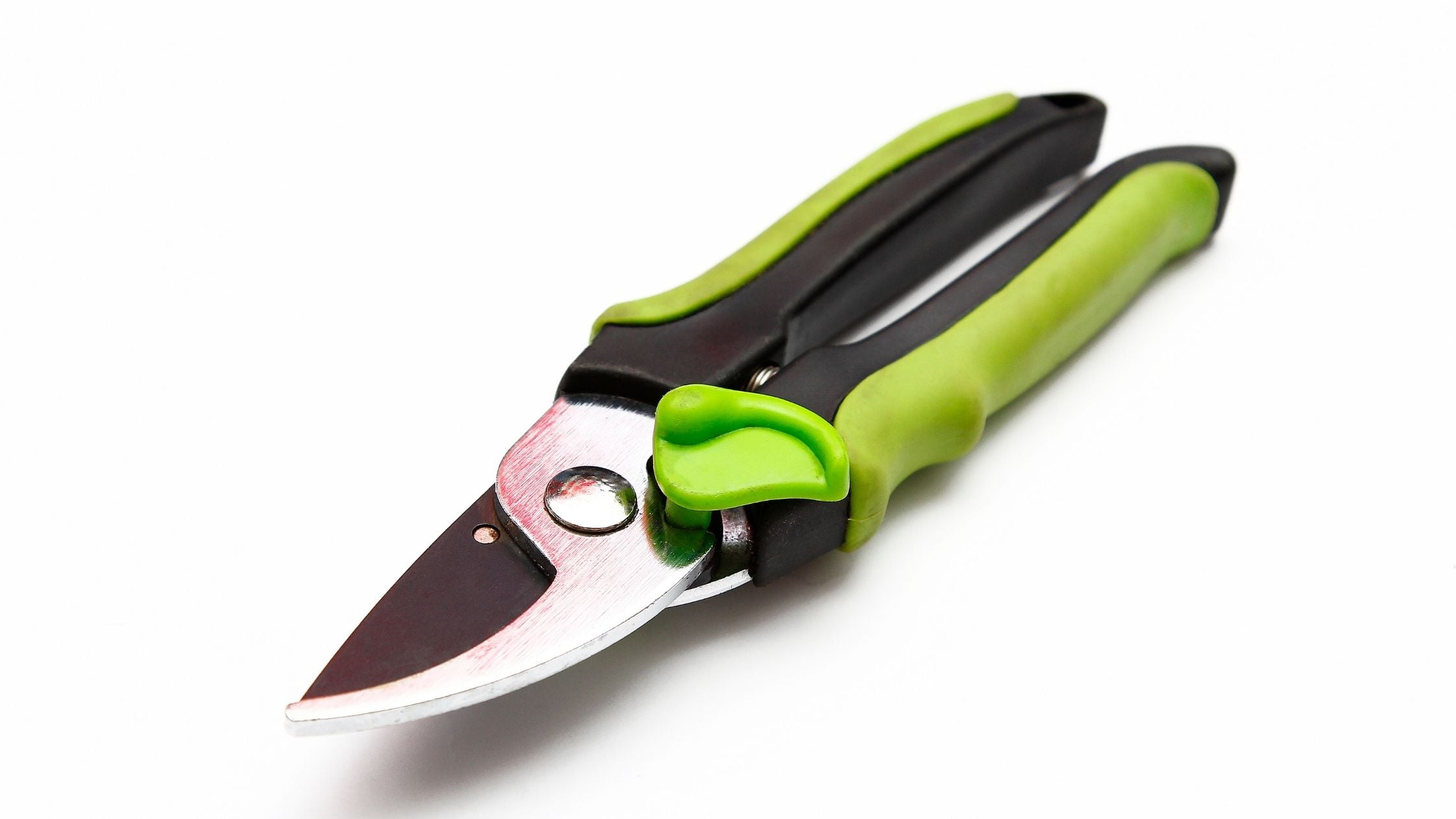 Anvil pruners are another type of pruning shears with a single sharp blade that strikes a heavy flat edge. Anvil pruners are considered as a knife that hit a cutting board. You can use anvil pruners to cut through thick and woody branches as this type of pruning shears applies even pressure on each side. However, since both sides of a plant contact the pruner, using this type of pruning shear can damage the plant. 
Thinning Shears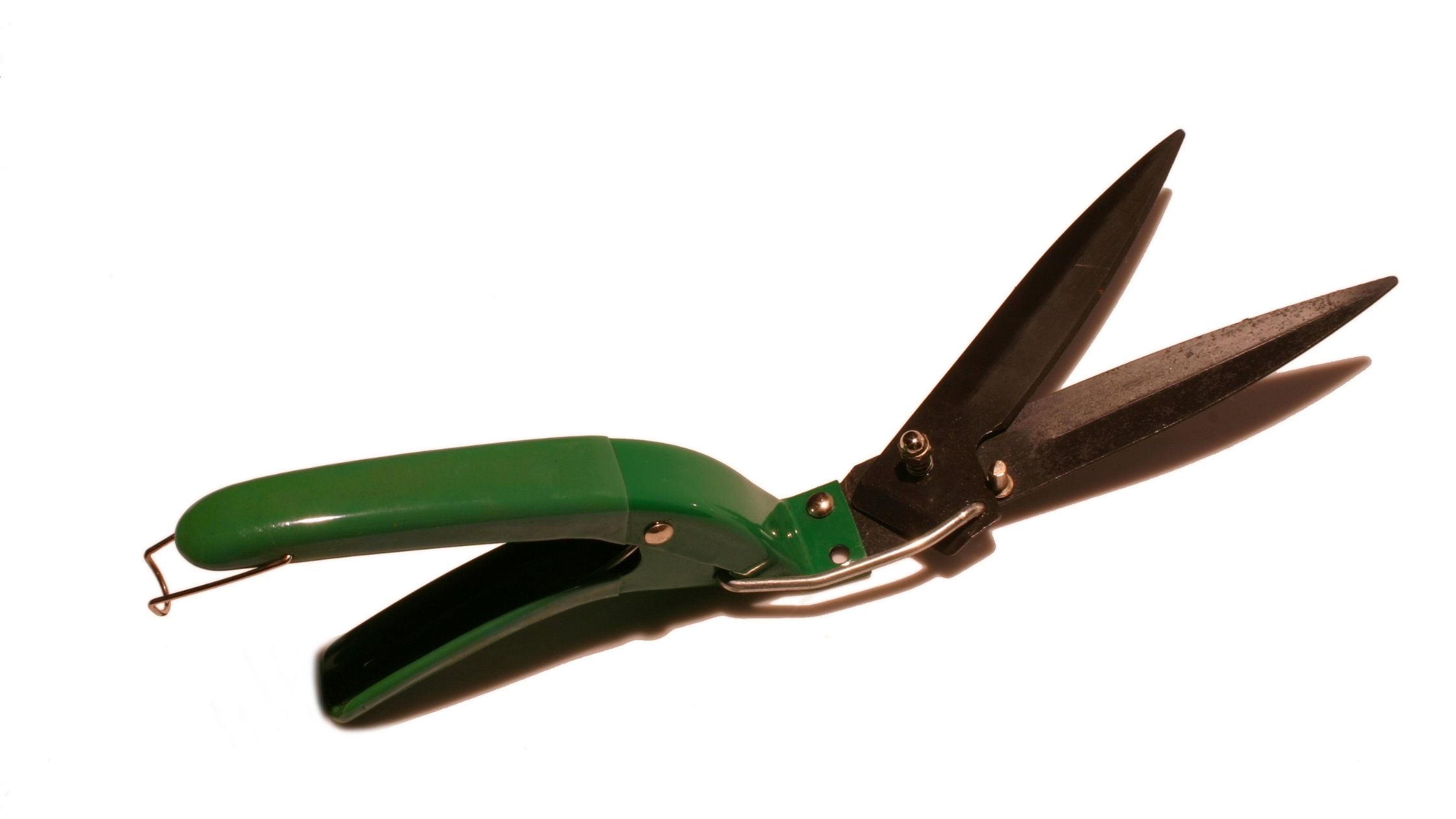 This type of pruning has a unique design that closely resembles a pair of scissors. Its long and thin blades make it suitable to cut delicate and small plants.  
Lopping Shears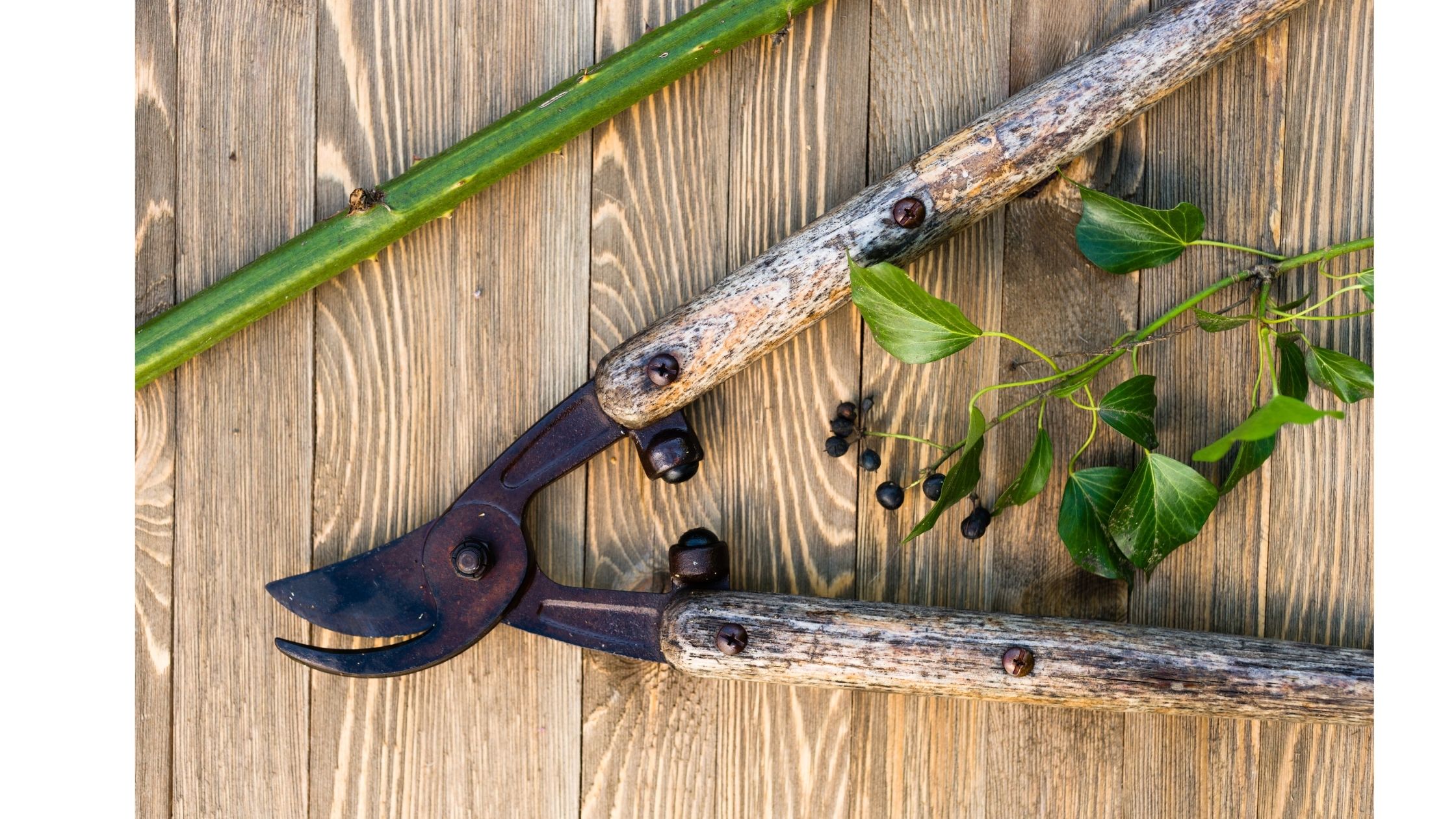 Lopping shears, also known as loppers, are longer pruning shears, making it easier for them to trim stems and branches up to 1-3/4 inches in diameters. Moreover, it has a unique design that allows you to use your lopping shear as both your bypass and anvil shears. Given its design, you can always trust lopping shears for cutting parts of trees where pruning shears cannot do the job. 
However, since lopping shears have longer handles, they require you to operate them with both hands, which can be a tiring task.   
Hedge Shears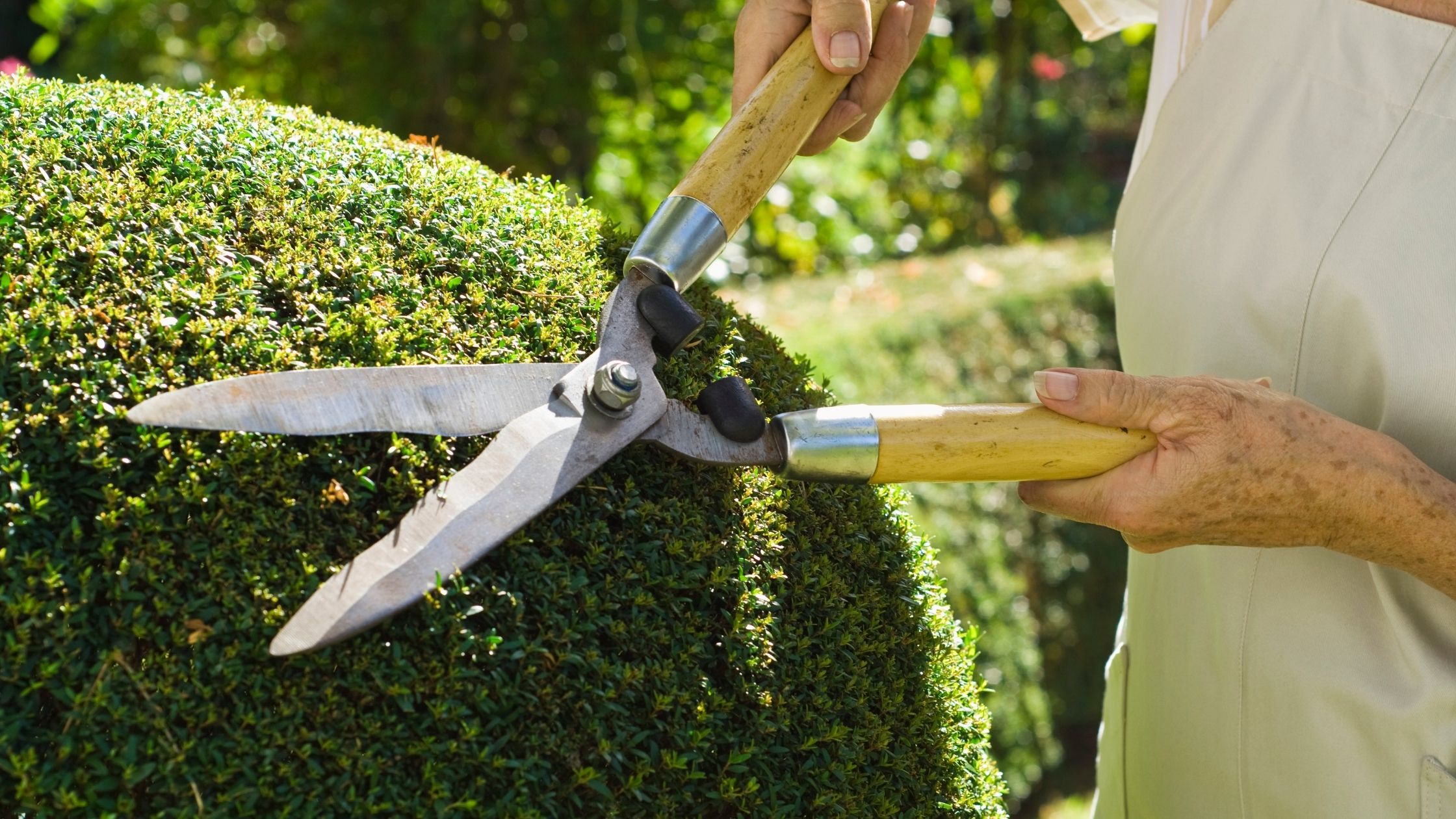 Hedge shears get their name because of the function they perform; trimming up hedges. Hedge shears have long handles and blades that allow you to cut more than one branch at a time. If you have more formally shaped hedges in your yard, using hedge shears can shape plants' new growth. 
Perhaps the best part of hedge shears is they are ergonomically designed, so even when you are performing heavy-duty tasks while using both your hands, you will still be comfortable. 
Ratchet Pruners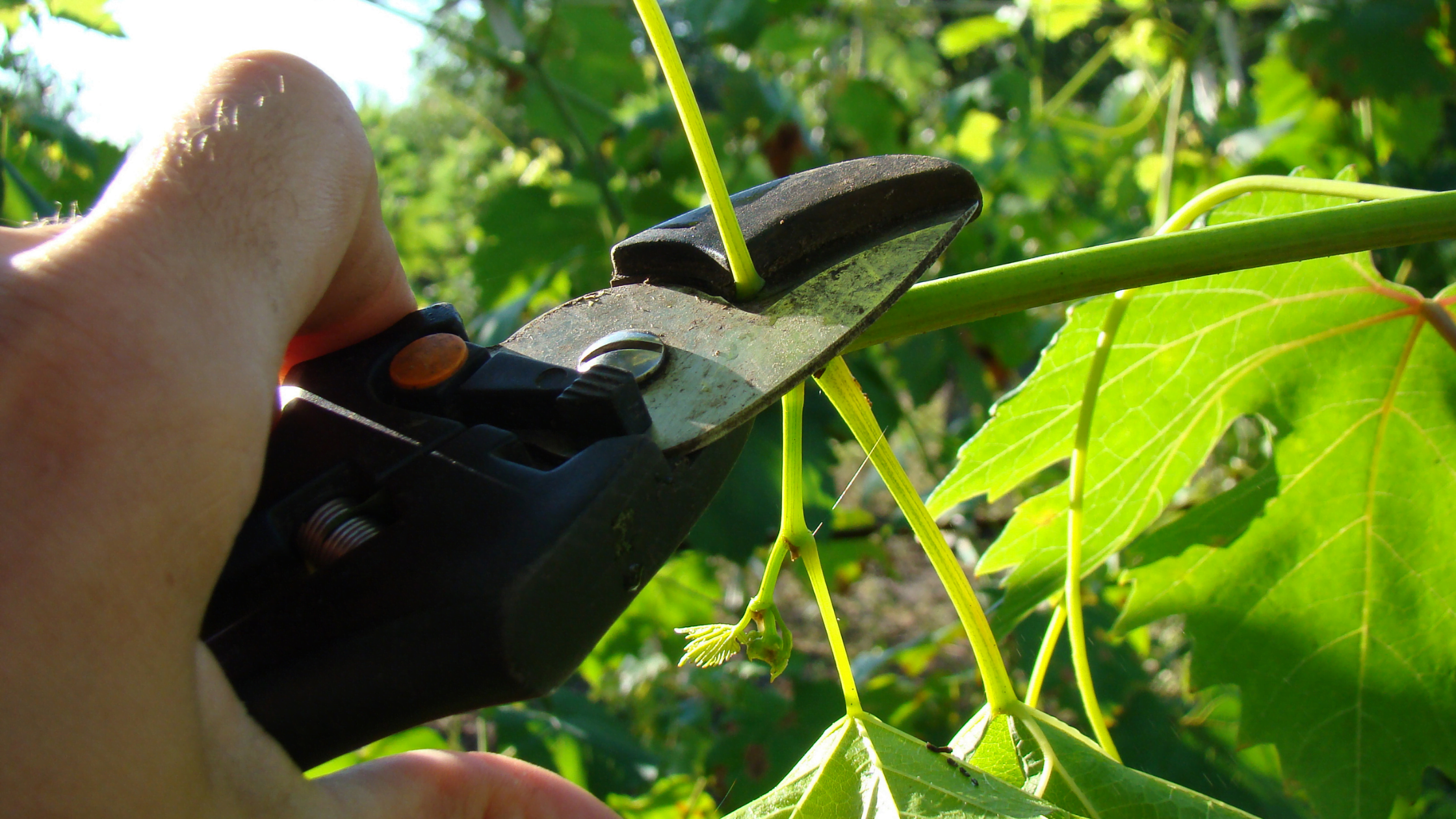 Ratchet pruners are a great choice for people who intend to trim thick branches and stems. With this type of pruner, you can make all your tough jobs a lot easier because they are designed with an additional part that allows you to cut and trim the branches in steps instead of a single smooth action. So, while using this pruner is different from other types of pruning shears, it makes your task a lot easier. 
Moreover, some ratchet pruners have "D" shaped handles that allow you to grasp them fully, and they also come with a safety latch, so it gives you extra protection as you cut through your plant's branches and stems. 
Electric Pruning Shears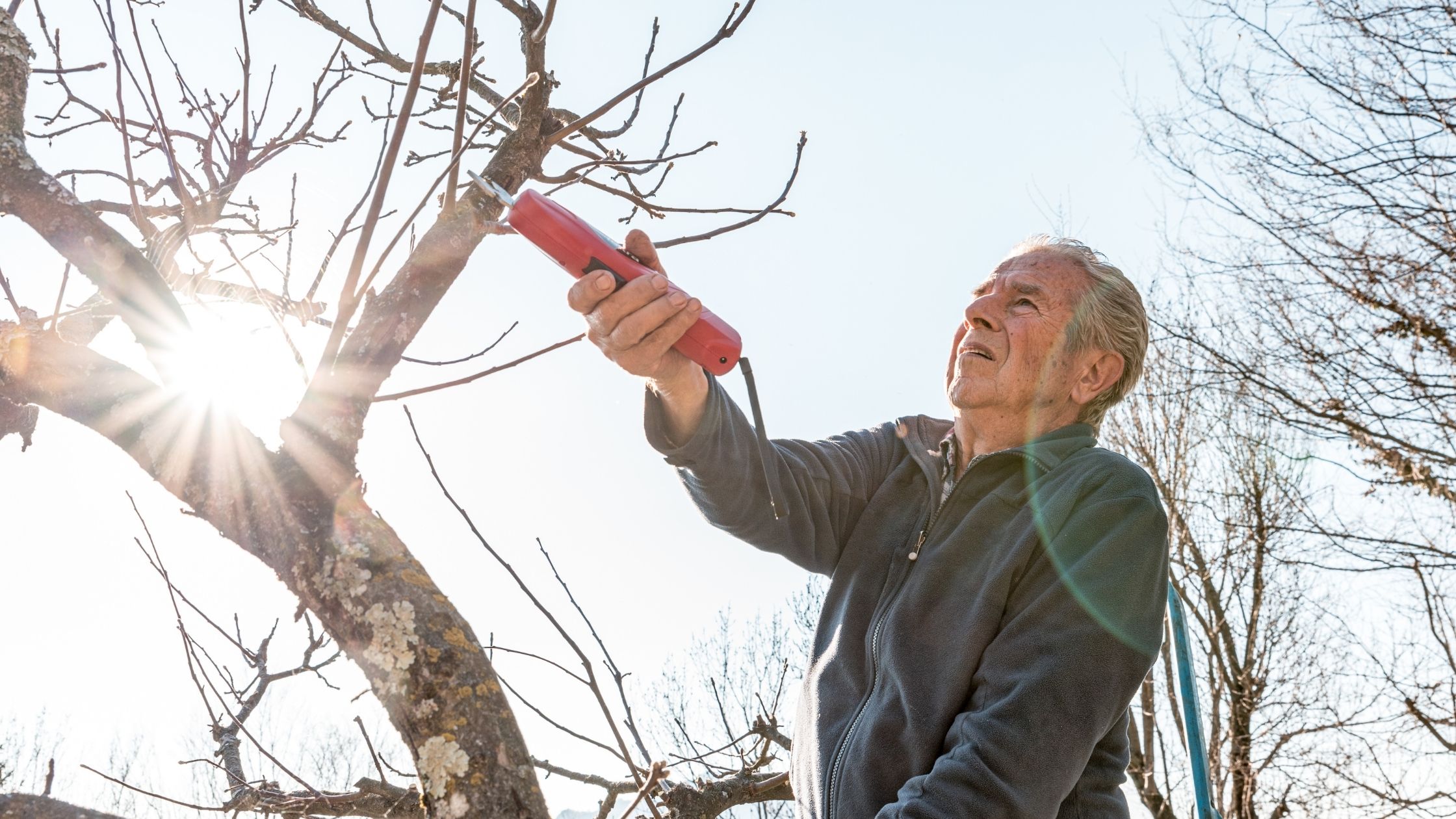 Yes, pruning shears are no longer just a manual gardening tool. You can now find electronic pruning shears that you can recharge and use again and again. Electric pruning shears are more efficient and are more reliable. Electric pruning shears come in different styles and types, including basic grass cutters and more complicated hedge trimmers. In addition, several electric pruning shears come with reliable lithium batteries that allow you to recharge the pruning shears. 
Electric pruning shears are often available in kits that contain everything you need to use the tool. The kit includes multiple types of blades, a few batteries, a charging cord, and all of this comes in a convenient case so you can keep your valuables safe. Once you charge the battery, know that it can last for up to a few hours so you can conveniently finish all your gardening tasks. Electric pruning shears are user-friendly, and even if you are gardening, you can quickly learn to use this tool. 
Now that you know about some of the basic types of pruning shears let's look at some of the critical factors as you choose a pruning shear for your yard. 
How to Choose a Pruning Shear? 
As you head out to choosing a pruning shear, here are some things that you need to consider before you make the final call.
Your Needs 
Perhaps the most critical factor that will help you choose the right pruning shear is your needs. Now that you know different types of pruning shears and have insight into their functions, you can decide on which type of pruning shear best suits your needs. 
If you are new to gardening, a bypass garden shear can be an excellent choice for you as it is easy to use and gives you a nice and clean cut. On the other hand, if you have some experience in landscaping and need a pruning shear to remove dead tough wood, you may need to work with anvil garden pruners. However, this type of pruning shears is heavier than bypass shears, making it challenging to complete the job, especially if you are a novice. Similarly, if you have weaker or injury-prone hands, a ratchet pruner may be best for you as it saves your wrist and hands from muscle strain and fatigue.
Cost of Pruning Shears  
Another critical consideration is price. The price range of pruning shears can range from $10 to over $100, and as with any tool, you need to get the one that best suits your needs and fits well in your budget. And as you look at the price of pruning shears, make sure you also consider the quality. 
Manufacturers of top-quality pruning shears such as ARS, Felco, and Fiskars might be expensive, but they do not compromise on quality. Since gardening tools are a one-off purchase, make sure you go for a top-quality pruning shear while keeping the cost in mind. 
Ergonomics
Pruning is a tough job and can be hard on your hands, and if you are already struggling with conditions such as arthritis or carpal tunnel syndrome, you need to look for pruning shears that are ergonomically designed. 
You can find pruning shears with cushioned or rotating handles that help reduce the pressure on your wrist and make the task more comfortable for you. 
In the end, it all comes down to your needs, your budget, and your comfort, so make sure you make a smart choice.
How to Sharpen Pruning Shears
Now that you are aware of the several types of pruning shears available on the market and how you can get one for yourself, it's time to know how to keep your pruning shears in the right shape. Let's look at what you need to clean and sharper your pruning shears. 
Here is what you need to do the cleaning and sharpening of your pruning shears. 
A screwdriver, 

Clean cloth, 

Warm, soapy water, 

Wrench, 

File or whetstone,

sandpaper, 

steel wool

Lubricating oil 
Once you have all the things you need for sharpening your pruning shears, here is how to do the job. 
Before you sharpen your pruning shears, it's important that you clean them. So the first step is to take the pruning shears apart. You can use a screwdriver to unscrew and separate the blades of your pruning shears.

Now, as you separate the two blades, the spring coil between the handles will slip off, so you make sure you

keep track of the pieces of your pruner. 

The next step is to give a good scrub to the blades. You can use warm soapy water and clean the blades with a clean, dry cloth. 

Next, if you see any stains or rust on the blades, you can use some steel wool or sandpaper to scrub it off. 

Once you have clean blades, they are ready to be sharpened. To get started, find the beveled or angled edge of your pruning shear. To sharpen the blade, take your file or stone and place it almost parallel to the blade on the beveled side. By applying pressure on the outer edge of the blade, file the blade in a single direction, away from you. 

Lift and repeat the process. Make sure you don't go back and forth. When you repeat the process a few times, you will notice the edges getting a new shine. 

Once the sharpening process is complete, it's time to put your pruning shear back together. First, reassemble the pruning shear by positioning the spring and the two parts together and use a screwdriver to tighten the screw.

Once your pruning shear is reassembled, use lubricating oil on all parts of the pruner. You can wipe off excess lubricating oil, and that's it! Enjoy your freshly sharpened pruning shears to give a nice trim to your branches and stems. 
Best Pruning Shears
Thinking about which one is the best pruning shear? Know that each type of pruning shear is designed to perform a specific function so depending upon the closeness and cleanliness of the cuts you need, your budget, and your comfort, only you can decide on which one is the best pruning shear for your gardening job. 
Read: Types of Sprinklers