Are you in the process of re-decorating your garden and are currently looking to invest in a storage solution? It sounds like you could use different stackable planters. These units can help you transform what now may look like a messy space into a completely different one, a garden worthy of praise. As a result, we'll be telling you all about stackable planters.
We understand just how much you love your plants, and since you want to give them the very best, stackable planters are the way to go. With stackable planters, you'll not only achieve a more cohesive, tidy-looking garden but also will make sure your babies (plants) will be well taken care of. Stackable planters come to the rescue when you have too much on your hands and want to make the best out of your Space while caring for your beloved plant.
The best part is that with stackable planters, you don't need to spend a whole lot, and at the same time, you can be as creative as you want. However, with many options available, it can become a bit overwhelming knowing what suits your needs best. So we are here to help and point you in the right direction by showing you some of the best stackable planters the market has to offer.
Stackable Planters
You are looking at five layers and a 13′ bottom tray. Saving Space, water, and fertilizer; suitable for home gardener growing all vegetables and strawberries herbs, flowers.
Water poured in the top flows down to all compartments. There are no drain holes, but the center has only dirt, and therefore they drain from upper to lower platers.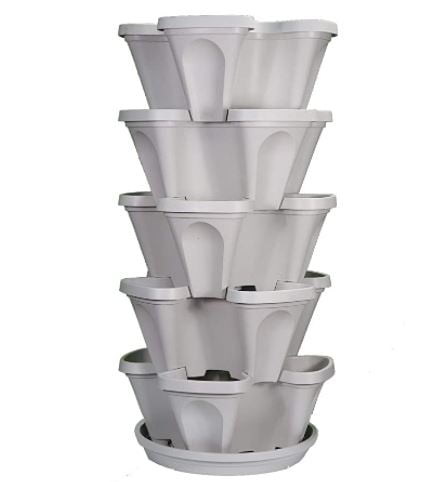 Features:
Floor Standing
Tabletop
Stone Material
---
The planter is great for growing strawberries, herbs, succulents, flowers, peppers, lettuce, and much more in a one square foot vertical space.
Water from the top, and with the flow-through design, you will not need to worry about over watering or root rot. If indoors, the bottom drip tray will catch any mess from occurring after a watering.
Also, you could break the five layers into two separate planters having a mini 2 tier herb garden and 3 tier strawberry planter. If you are growing hydroponically, this is also the stackable planter for you.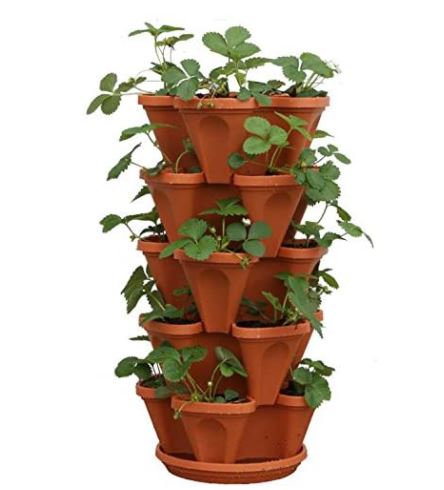 Features:
Plastic
Floor Standing
Terracotta Color
---
Perfect for your backyard, porch, or indoor garden. This multi-tiered structure will make the best use of a small space by growing your plants vertically.
The tiers can be disassembled and used as separate plant pots or stacked to build an organized vertical garden. Quickly grow Strawberries, flowers, herbs, succulents, microgreens, and more.
Crafted with heavy-duty polypropylene plastic, these reusable elevated planters are fade and crack resistant to outlast hot summer days and inclement weather. Perfect for decks, patios, or porches.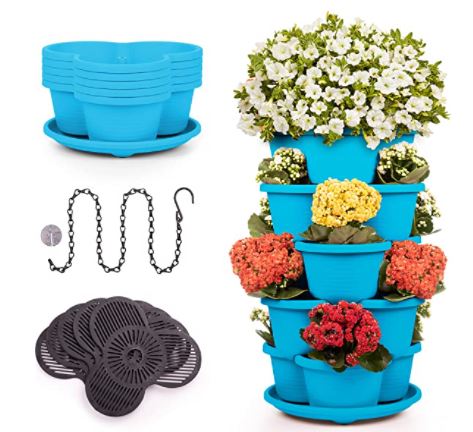 Features:
Polypropylene, Plastic
Space Saving
Durable
---
Made of high-quality polypropylene, our planters are sturdy, resistant to fading and cracks. Make the best use of small spaces by growing your plants vertically.
Each pod accommodates 5″ plants, making it easy to mix a large variety of different vegetables, flowers, succulents, greens, and herbs.
Indoor/Outdoor Planters; includes one Vertical Planter made of 5 stackable pots that can hold up to 15 different plants.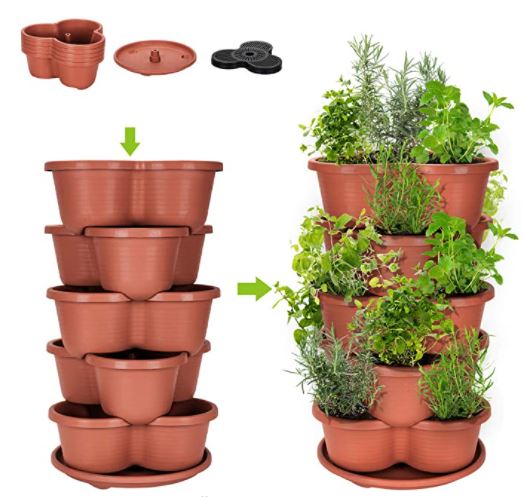 Features:
Floor Standing
Indoor/Outdoor Planters
Stylish Design
---
Five planter boxes are easily removable; just lift out from the frame to allow various re-arrangements and easy repotting. They are no more reaching too high or too low to plant your favorite arrangements. The frame is made of a heavy-duty powder-coated steel frame with a stylish finish.
Remove the planter box and tend to your plants in your comfort. Suitable for seniors to continue gardening.
Perfect for small spaces, patio planter, balcony planter, or herb planter. The charcoal color of the frame and containers allows for the colors of your flowers to shine.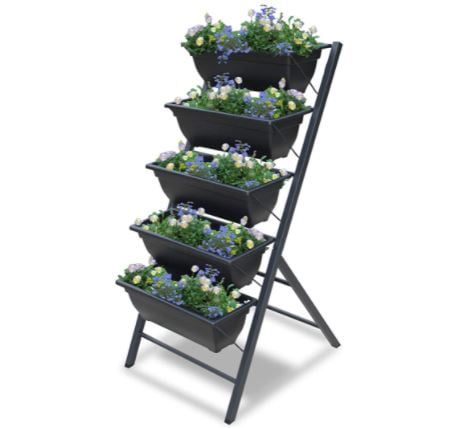 Features:
Rectangular
Polypropylene, Steel
Powder Coated
---
This 3-tier planter can hold up to 9 different plants at once. Mix and match a large variety of other flowers, vegetables, and herbs. This planter helps you save Space while adding style to your home.
Each pod can accommodate 5″ broad potted plants, allowing you to swap out plants with ease. No additional digging is needed, and you don't need to go through the hassle of replanting when you want to replace your plants.
The base tray rotates to allow plants to catch sunlight and water. Strategically position this tower in an ideal location to give your plants the nutrition they need. Drainage holes under the pods enable water to trickle down to the lower levels, ensuring that all pots receive proper irrigation.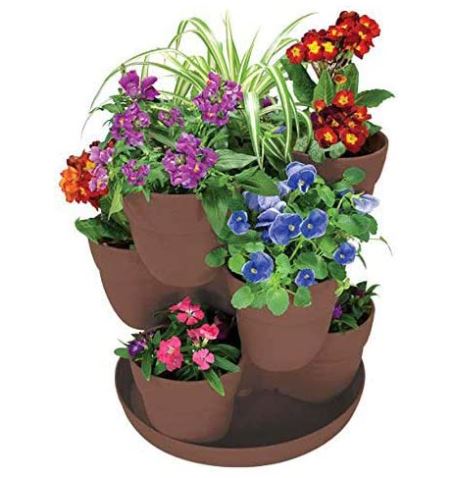 Features:
---
Get some green into your life with the Mr. Stacky 3 Tier Herb Garden Planter. This unique and efficient 3-tier planter features stackable plastic pots perfect for herbs, small greens, flowers, cacti, and more.
Water the top pot, and the liquids will flow down to the rest. It's so easy and efficient, even kids can and should partake in the growing fun. Holds up to 12 plants comfortably.
They are crafted with plastic. Color options are available, For indoor or outdoor use. Includes drainage holes and tray. Water on the top flows down through all tiers. Holds up to 14 quarts of soil.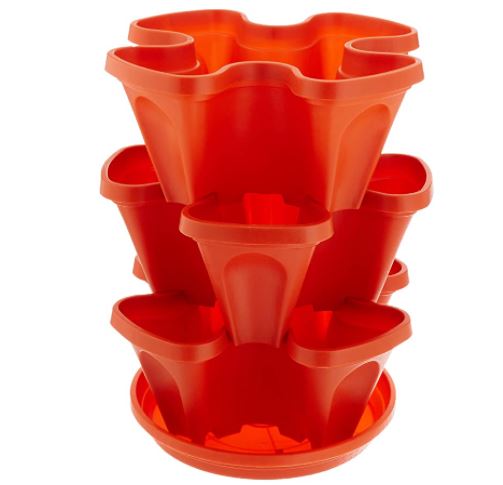 Features:
3 Tier
Floor Standing
Plastic
---
Common Questions About Stackable Planters
How do stackable planters work?
As each disk fills, the water seeps through the holes into the soil below, slowly moistening the soil throughout each planting tray. The topwater disk fills first, then the second from the top, and so on until all the disks are entire.
In most cases, fill the vertical planter with a slightly acidic, good flower/garden potting mix, rich in organic matter and some sand that drains well, holds the moisture well, and is well aerated.
Self-watering vertical planters usually have a grid in every pot, preventing the roots from being immersed in water directly but enabling the soil to be moist for a more extended period without additional watering.
Adding fertilizers will help the plants grow strong and healthy and bear tasty fruits.
What grows well in a stackable planter?
This perfectly pink stackable garden planter is ideal for growing tomatoes, herbs, and other small plants. The planter allows for 20 separate growing locations in a compact and attractive design. It is also lightweight and easy to assemble so that you can place it just about anywhere.
Are stackable planters good?
Vertical stackable planters are popular growing systems for home gardens and indoor growers. They can be very decorative, but stackable vertical planters also save Space when growing berries and other fruits, vegetables, flowers, herbs, and similar plants.
Many ready-made vertical stackable planters can be purchased online or in any garden center.
What to consider when choosing Stackable planters?
Space & Sunlight
Available Space and sunlight dictate the actual size of the vertical planter that can be positioned on the desired location and the type and varieties of plants that can be grown in such position.
If the planter is too close to the wall, tree, another vertical planter, there is a great chance that lower tiers receive less sunlight than upper tiers. Thus, in that case, if possible, on lower tiers, plant plants that don't require full sunshine and that tolerate partial shade and use upper tiers for planting plants that require plenty of sun to grow correctly.
Material
Planters should be made using 'food-grade safe' materials, not some cheap plastic loaded with chemicals. Also, such material should be strong, flexible, durable, and lightweight.
However, there are some exceptions. Terracotta as a material is anything but flexible and lightweight – but it is robust, durable, and due to its weight, such planters are very stable and resistant to strong wind. Also, pets and kids have 'issues' with tipping over such vertical planters due to their weight.
Number of Tiers
Most vertical planters have a maximum number of tiers in the 3 to 10 range. Some models allow the gardener to get started with 3-5 tiers and then, with time, add more tiers if required.
Note that stacking tiers vertically has certain limitations – most planters in the 3-5 tiers range don't require any additional support in the form of a central rod or bar, which increases the stiffness of the planter to wind or similar lateral forces that can tip over the farmer.
Number of Pots per Tier
The number of 'individual' pots per tier varies, but it is usually between 3 and 6, with the four pots per tier being ubiquitous. Such four pots per tier systems are very stable; they allow enough room for roots and plants and allow a more significant number of plants per tier.